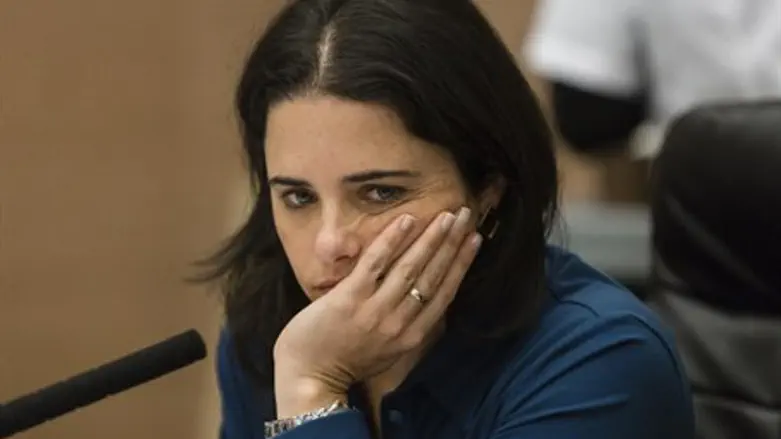 MK Ayelet Shaked
Flash90
Despite winning the majority of incoming MKs' support to form the next government, Prime Minister Binyamin Netanyahu continues to face suspicions he will abandon them for the Left. 
Likud, Jewish Home, Shas, United Torah Judaism, Kulanu, and Yisrael Beytenu all recommended Netanyahu for the task - giving him a total of 67 MKs in his possible coalition. 
Still, MK Ayelet Shaked (Jewish Home) fears Netanyahu may take the President's mandate and instead of forming a narrow right-wing government, create a broad unity government. 
"We are opposed to a unity government. The nation made a definite choice," Shaked said during an interview with the Knesset Channel. "We warned that a small Jewish Home would lead to the danger there may be a unity government."
Addressing reports that Netanyahu was in contact with Labor leader Yitzhak Herzog and Yesh Atid head Yair Lapid, Shaked said she did not believe the Prime Minister would renege on his pact with the Right. 
"There's been a buzzing around but it's hard for me to believe the Prime Minister will violate his word," she noted. 
"A unit government means instability," Shaked continued. "It's a government that will last for only a short time and we will once again be ensnared in elections." 
"The people decided on a right-wing government, and I hope the Prime Minister won't make a joke his own words and that he will establish a right-wing government."
Shaked may not have much to fear as Herzog repeated Monday that his party is en route to the opposition and absolutely refuses to join a unity government with Netanyahu. 
"The well-known games and spins of Bibi, Elkin, and Erdan will not help them," Herzog declared. "The entire Zionist Union faction is united and backs up my position that we will be in the opposition, facing a narrow right-wing government that is dangerous to the citizens of Israel."