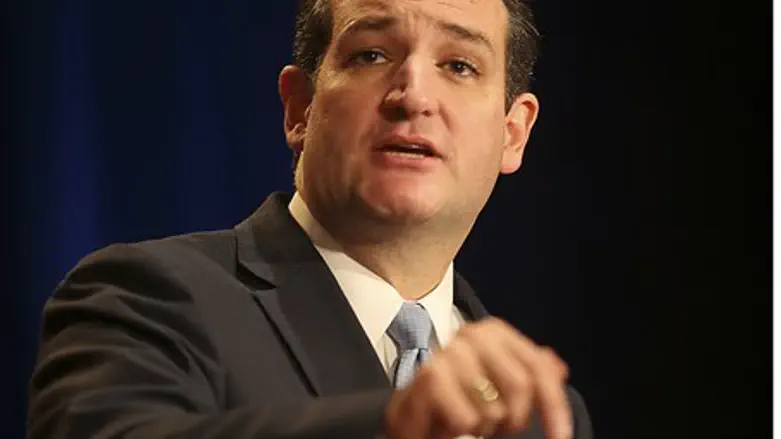 Senator Ted Cruz (R-TX)
Reuters
Confirming earlier reports, staunchly pro-Israeli Senator Ted Cruz (R-TX) has made it official that he will be running for Republican nomination in the 2016 US presidential election, becoming the first major candidate to declare themselves running.
On Sunday night, ahead of a Monday morning commencement speech at Liberty University in Virginia in which he was expected to announce his candidacy, Cruz told supporters on Twitter "I'm running for president, and I hope to earn your support!," reports the ​Washington Post.
At 44-years-old, Cruz is a lawyer by profession having graduated from Harvard and Princeton. He served as an attorney in the administration of George W. Bush, before becoming Texas's solicitor general, and in 2013 he entered the Senate.
He gathered national attention by leading efforts against US President Barack Obama's controversial health-care law in 2013, leading to a 16-day government shutdown. His criticism has also targeted Republican leaders for not doing enough to block Obama's actions, particularly in terms of Obama's weakening of immigration laws.
Cruz has also pushed strongly for greater support of Israel, telling Arutz Sheva at an Israel Day event in New York City last June that, "the friendship between Israel and America is and should be unbreakable," while calling "the prospect of Iran gaining nuclear weapons capability" as "the gravest threat to both" countries.
He was one of the senators who recently sent a letter to Iran warning that a bad nuclear deal with Obama would not outlast his presidency, after vocally supporting Prime Minister Binyamin Netanyahu's warnings against the deal in Congress earlier this month.
In January he co-authored a bill that would have the US Embassy finally moved from Tel Aviv to Jerusalem, the capital of Israel.
"A grass-roots army"
While Cruz was born in Canada and his father left Cuba in 1957, the fact that his mother was a US citizen would certify him as a "natural born" American able to run for president, according to legal experts.
Cruz ran a conservative grass-roots campaign upsetting David Dewhurst in the 2012 Republican Senate primary, a strategy he says he will repeat in the coming campaign.
"The only way we're going to make this happen is by building a grass-roots army in New Hampshire and in all 50 states," Cruz said in Lincoln, New Hampshire, during a speech last week.
Key positions in the campaign are expected to include opposition to Obamacare and other controversial policies, including same-sex marriage, as well as urging a stronger foreign policy.
Regarding his chances of winning in Republican primaries, polls have not put him on top, but the race remains tight with no expected candidates breaking out of the pack.
The decision to announce his campaign on Monday at Liberty University, which was founded by evangelist Christian Jerry Falwell, is because it is the largest Christian university in the world and has a large alumni base, according to a Cruz aid quoted by Washington Post.
Cruz spoke at the university last year, saying to a standing ovation, "these are troubled times. Religious liberty, the very first liberty in the Bill of Rights, the very first protection we have, has never been more in peril than it is right now."
In a recent speech in New Hampshire, where the first presidential primary is to be held, Cruz likewise warned "the Obama economy is a disaster, Obamacare is a train wreck and the Obama-Clinton foreign policy of leading from behind - the whole world is on fire."
The lawyer and presidential candidate is to publish his first book this June, entitled "A Time for Truth: Reigniting the Miracle of America." The book will focus on different leaders who excelled in the face of challenges, including Holocaust survivor and Nobel Peace Prize winner Elie Wiesel.