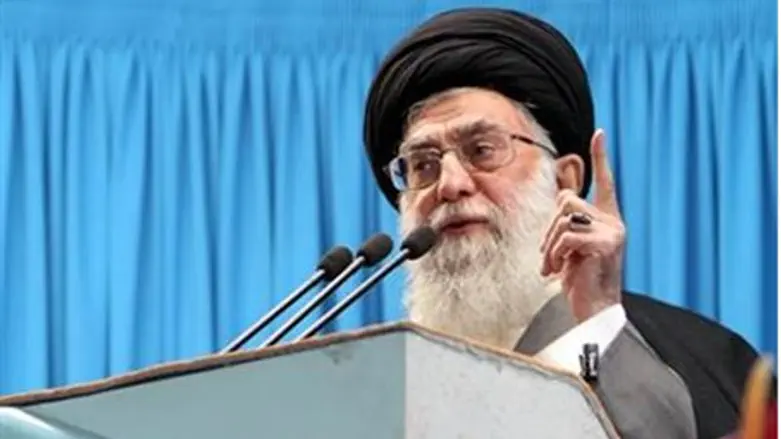 Iranian Supreme Leader Ayatollah Ali Khamenei
Reuters
Just two days after President Barack Obama urged the Iranian people to take advantage of an "historic opportunity" to resolve the nuclear issue, an Iranian crowd on Saturday chanted "Death to America" - and the country's Supreme Leader agreed.
According to Reuters, Ayatollah Ali Khamenei spoke in northeastern Iran, where he accused the U.S. of using economic pressure and "bullying" to try to turn his countrymen against Islamic rule.
Khamenei, who has the last word on all matters of state, reiterated in his speech that Tehran would not be pressured into giving in to Western demands in the negotiations with major powers.
Khamenei denounced the sanctions and what he described as the "arrogant" Western powers, blaming them and regional players for the halving of oil prices since last June, which has further squeezed Iran's economy.
At that point, according to Reuters, a man in the audience shouted "Death to America", to which the Supreme Leader responded, "Of course yes, death to America, because America is the original source of this pressure. They insist on putting pressure on our dear people's economy. What is their goal? Their goal is to put the people against the system."
Khamenei challenged the message to Iranians by Obama, in which the president said the nuclear talks represented the best opportunity in decades to pursue a different relationship between the two countries.
He dismissed Obama's assertion that there were people in Iran who stood against a diplomatic solution to the nuclear issue.
"This is a lie. There is no one in Iran who doesn't want the nuclear issue to be resolved, and resolved through negotiations. What the Iranian people don't want is imposition and bullying from America," he said, according to Reuters.
"The other side says 'Let's come and negotiate and you accept every detail of what we say.' ... Neither our leaders nor our negotiating team nor the people of Iran, who are behind them, will accept this," added Khamenei.
"Death to America" is often chanted by the crowds at rallies in Iran. In fact, the  slogan has been chanted for more than three decades at state events, including Friday prayers.
While there were calls to refrain from the chants, in view of Iran's attempts to convince the world that it has become more moderate, Iran's clerics rejected the calls, saying the slogan "reflects the Islamic doctrine of resistance to imperialism, and also symbolizes Iran's strength."
The Iranian Revolutionary Guards (IRGC) recently made clear that the United States "is still the great Satan and the number one enemy of the (Islamic) revolution, and the Islamic Republic and the Iranian nation...will never allow the dignity and independence of the Islamic homeland to be threatened and harmed by the will of the enemies."
Khamenei himself has in the past referred to the United States  as "Satan", claiming that the United States is "the greatest violator of human rights in the world."