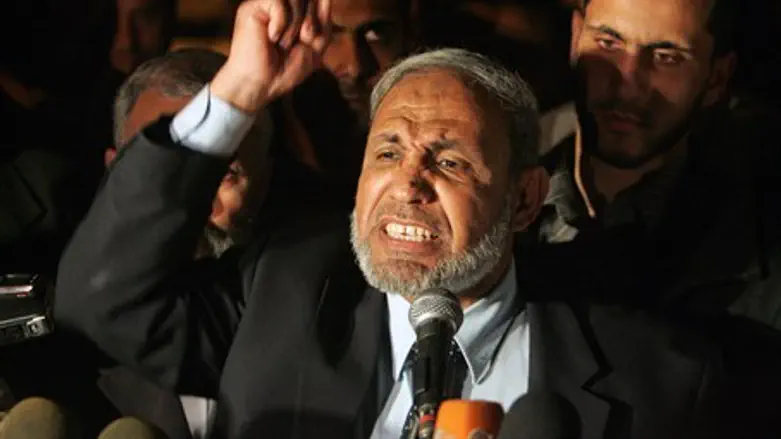 Mahmoud Al-Zahar
Reuters
Hamas has pledged a takeover of Judea-Samaria Saturday, after one of its leaders declared "the liberation of all Palestine" - including the Palestinian Authority (PA) - a  strategic area of ​​utmost importance in implementing long-term objectives of the terror group. 
Speaking from an event  to mark the release of terrorist Ismail al-Zahar from Israeli prison after a 12-year sentence, Hamas leader Mahmoud al-Zahar stated that there are "a thousand courses of action" to break the Israeli travel and import restrictions on Gaza, and he vowed to force Israel to release more terrorists, similar to the way prisoners were released as part of the Shalit deal.(i.e. through abductions - ed.).
Zahar, who has watched the relations between Gaza and other Arab states slowly improve, also imparted blame on the security cooperation between Israel and the PA for Palestinian Arab failings.
He pledged war against both "traitors" and "occupiers" in Judea-Samaria and Jerusalem, implying both an armed takeover in the PA and the eventual launching of another war against Israel.
Zahar's comments surface just as the PA is discussing ending security cooperation with Israel - and as tensions have enflamed in PA terror strongholds.
Earlier Saturday, terrorists in a Jenin "refugee camp" fired heavily on PA security forces, and security sources told Palestinian news agency Safa that terrorists have gained an upper hand in control of the city. 
Despite the unity agreement, the PA has continuously arrested members of Hamas in the PA-assigned areas of Judea and Samaria.
The reconciliation attempt has been rocked by tensions, most notably Hamas's attempt to stage a violent coup in Judea and Samaria against the Palestinian Authority.
The sides have most recently quarreled over the PA's refusal to take responsibility for the wages of employees from the former-Hamas run government, a key Hamas demand.