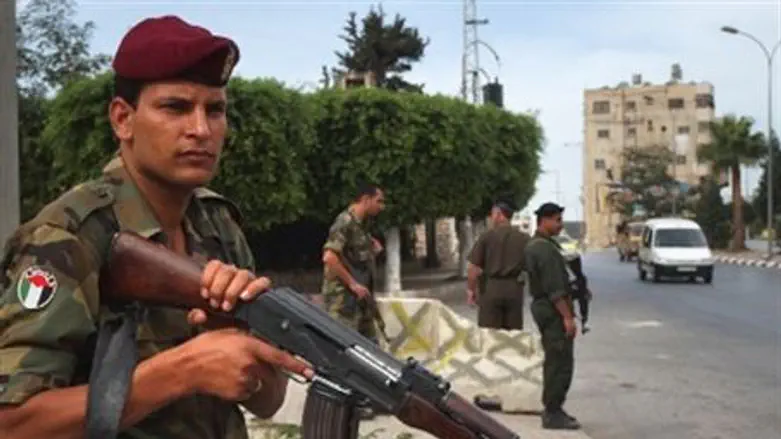 PA police officer
Flash 90
Chaos has descended on Jenin, Palestinian Arab news agency Safa implied Friday, after gunshots resumed in a "refugee camp" in the city between armed terrorists and Palestinian security forces Thursday night. 
Eyewitnesses stated to the agency that "militants" opened fire on security forces as Palestinian Authority (PA) police patrols arrived to the camp, firing from several directions; many of the sniper positions were in the city streets. There were no known casualties.
Security sources noted that terror activity in the "refugee camp" has become common, with several shooting incidents erupting over nights, and that security forces had entered to show deterrence and confiscate weapons. 
The incident erupted just as the Palestine Liberation Organization (PLO) - the terror group legitimized by the 1993 Oslo Accords that runs the PA - met last week to discuss ending security coordination with Israel. PA Chairman Mahmoud Abbas has threatened the move several times over the past several months.
Rather than being a response to elections, the meeting appears to come as a response to Israel's decision to withhold tax revenues collected for the PA in retaliation for its unilateral moves to join the International Criminal Court (ICC) and sue Israel for "war crimes."