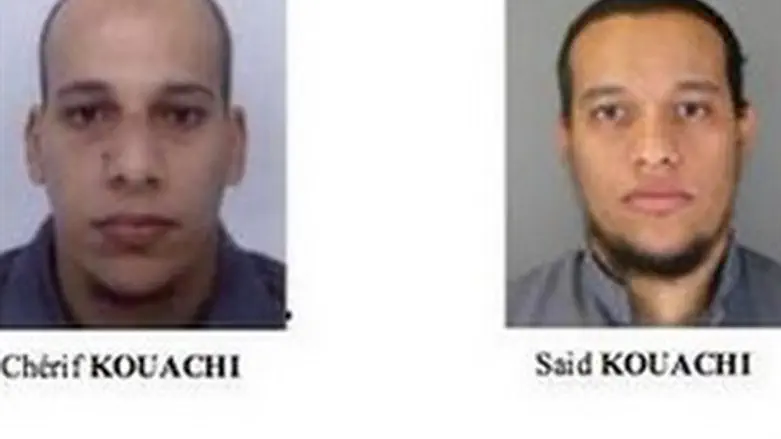 Cherif and Said Kouachi
French police
French magazine Paris Matchon Thursday published photos of the bodies of the two Muslim terrorist brothers behind the bloody January attack on the satirical newspaper Charlie Hebdo in Paris, saying the French "have the right" to see them.
The three pictures showed the bodies of Cherif and Said Kouachi lying on the ground after being shot by police January 9 in front of a printing factory where they had holed up in the town of Dammartin-en-Goele outside Paris, near Charles de Gaulle airport, reports AFP.
Two of the photos were printed in black and white because they were "too hard" to look at in color, Paris Match managing editor Olivier Royant told Europe 1 radio. The third, published in color, showed Cherif Kouachi on the ground covered in blood and surrounded by forensic police.
Paris Match described the images as "historic" and defended their publication.
"We have to stop infantilizing the public. The French have the right to see this," Royant told AFP. "This is not at all sensationalism."
He added: "This was the final chapter of these two brothers' actions. It was important to publish them."
Royant did not identify who took the photos, but said they were "taken by someone who is not a professional journalist." They were not part of the official investigation into the brothers, he said.
On January 7, the Kouachis attacked the offices of Charlie Hebdo with Kalashnikov assault rifles, killing 12 people, among them several of the newspaper's leading caricaturists.
Video footage caught them making comments apparently saying it was to "avenge" the weekly's mocking of Mohammed, the founder of Islam, in cartoons. The satirical paper had frequently lampooned Christianity and Judaism as well.
In a telephone interview with a French television station as police closed in on them after a two-day manhunt, the brothers claimed they were directed by the Islamist terror group Al-Qaeda in Yemen.
An accomplice, Amedy Coulibaly, stormed a kosher supermarket in Paris as police surrounded the Kouachi brothers, murdering four Jews and taking others hostage.
The Kouachis and Coulibaly were killed by police who rushed both the sites in quick succession.
The Charlie Hebdo massacre launched a "Je suis Charlie" public campaign in favor of freedom of expression backed by several leaders and taken up in countries around the world, though some with large Muslim populations rejected any association with the satirical weekly.