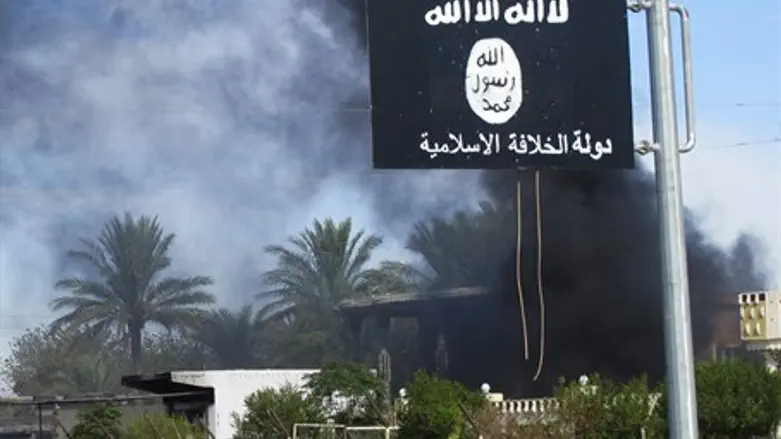 ISIS flag
Reuters
The Islamic State (ISIS), which has been destroying churches and forcing thousands of non-Muslim women to serve as sex slaves of the jihadists, and in Nineveh, Iraq, it is enforcing sharia law against Muslims.
An ISIS report from Nineveh documents in photos the carrying out of a death sentence against two Muslim locals who were convicted of armed robbery. In accordance with Muslim law, the execution was carried out in the central square, with hundreds of people looking on, including children who were in the front row.
Armed ISIS men secured the location and some of them were placed in observation positions in a nearby building. The convicts kneeled with their hands tied behind their backs and their eyes covered with a piece of cloth, while one of the gunmen read out the sentence.
Then, the executioner arrived, dressed in black, with a long sword in his hand. The decapitated bodies were crucified and the severed head was tied to one of the cross's beams.
Signs that were hung on the body said that the executed person had stolen Muslims' money in an armed robbery, and was therefore sentenced to death and crucifixion.
The executions serve ISIS as a means of deterring residents, so that they obey the Islamist terror regime without reservation, and in order to prevent an opposition from forming. At the same time, ISIS is using its control of central cities in Iraq and Syria to implement a re-education of the residents, as part of a plan to create a new jihadist generation that will continue ISIS's conquests.