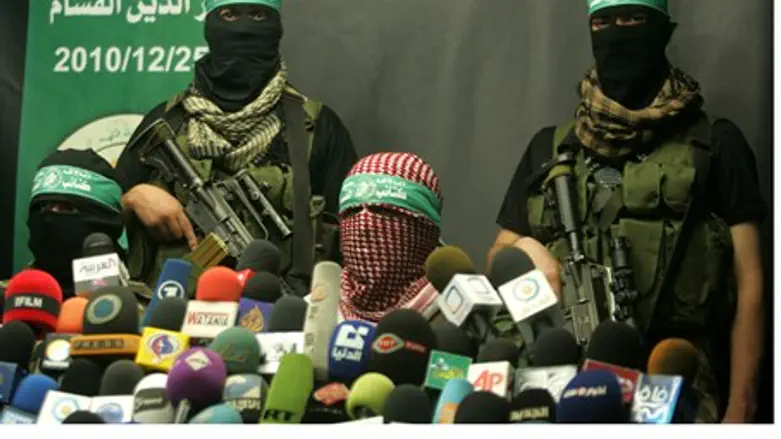 Hamas press conference
Mohammed Othman/Flash 90
Even as Hamas claims to be discussing a long term "quiet period," in which it will promise not to attack Israel for five years in exchange for being allowed to develop Gaza economically, top Hamas terrorists were planning their next round of battle against Israel – to be launched from Judea and Samaria.
In an interview with Hamas' Al-Aqsa TV, top Hamas terrorist Mahmoud a-Zahar said that negotiations between Israel and the Palestinian Authority (PA) have "failed," and now it was the turn of the terror groups to try and make some "progress" to "free all of Palestine."
The way to do this, he said, was to set up well-armed terror cells in Judea and Samaria, so that a two-pronged attack – from Israel's south and east – could take place. For that, he said, there would be a need to smuggle weapons from Gaza to PA-controlled areas of Judea and Samaria, a task Hamas is already working on.
Among the weapons Hamas plans to use is its Gaza-developed drone, which he called the "Al Aqsa Brigades Air Force." During Operation Protective Edge, Hamas flew several such drones over Israeli.
"We have a holy obligation to move the struggle to the West Bank," said A-Zahar. "We also support our sons and daughters, the heroes of the Al-Aqsa Mosque (on the Temple Mount) who are holding onto it day and night, and who have invented new weapons to fight the occupation."