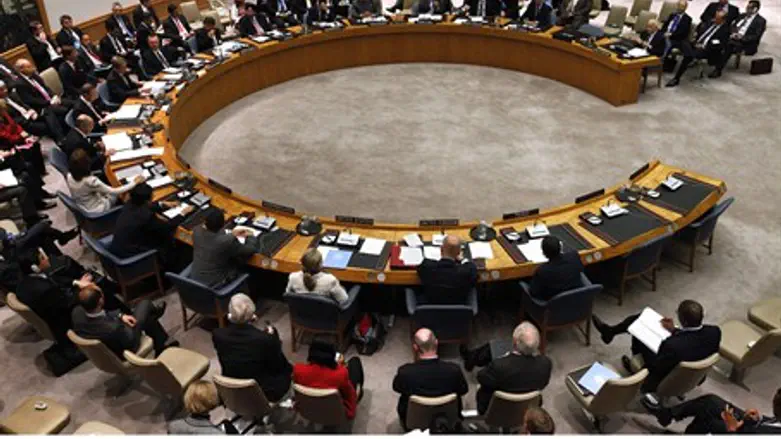 UN Security Council meeting
Reuters
The Obama administration expects that as a matter of course, the UN Security Council would endorse any final nuclear agreement reached between world powers and Iran, the State Department said Friday, according to The Associated Press (AP).
Spokeswoman Jen Psaki also denied reports from Thursday that there are talks already in place to remove the sanctions on Iran, after Western officials said world powers have quietly begun talks on a UN Security Council resolution to lift sanctions on Iran if a nuclear agreement is struck.
Psaki said that if a comprehensive accord is struck by a June 30 deadline, it would be forwarded to the Security Council for its approval. All five permanent members of the council — Britain, China, France, Russia and the United States — along with Germany are currently racing to complete the outlines of a deal with Iran by the end of this month. They have set the end of June as the deadline for a full agreement.
"We would anticipate that, if we're able to reach a joint comprehensive Plan of Action between the P5+1 and Iran, an endorsement vote would be held by the UN Security Council," she said, according to AP, adding that such a step should not be "a surprise" because of who is negotiating the agreement.
A Security Council vote on a resolution to endorse a possible deal would be separate from a vote to ease or remove United Nations sanctions on Iran, which would come only after Iran is found to be complying the with the agreement, Psaki stressed.
A vote to remove UN sanctions would not affect U.S. sanctions, she added.
The administration has been criticized by members of Congress for pursuing an executive agreement with Iran that would not require their advice and consent as a formal treaty would.
Secretary of State John Kerry told Congress this week that an Iran nuclear deal would not be legally binding, meaning future presidents could decide not to implement it, after a group of Republican senators sent a letter to Iran warning it that any agreement signed with President Barack Obama would be void after he leaves office.
On Thursday, the chairman of the Senate Foreign Relations Committee warned Obama not to try an end-run around Congress by getting the United Nations to implement a nuclear deal with Iran.
Republican Senator Bob Corker of Tennessee said letting the UN consider such an agreement, while at the same time threatening to veto legislation that would allow Congress to vote on it, is a "direct affront" to the American people and would undermine the role of Congress.
(Arutz Sheva's North American desk is keeping you updated until the start of Shabbat in New York. The time posted automatically on all Arutz Sheva articles, however, is Israeli time.)