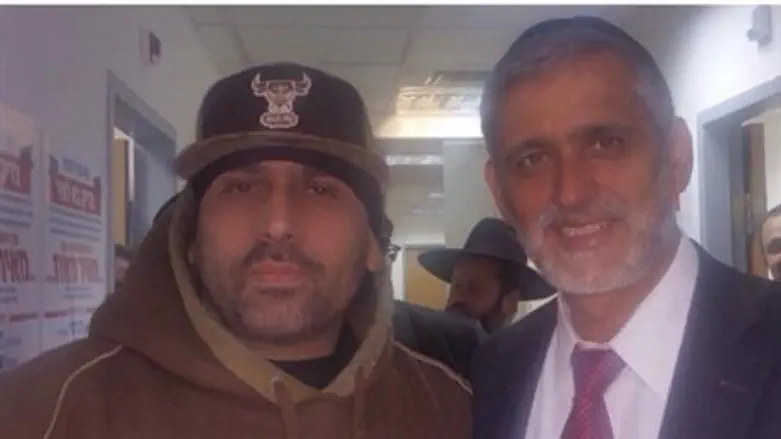 Hatzel with Eli Yishai
Courtesy of Yoav Eliasi
Israeli rap superstar Yoav Eliasi, better known by his stage name Hatzel, on Thursday responded to the curiously timed indictment filed against Otzma Yehudit candidate Baruch Marzel the day before, which comes a week before elections.
The indictment, which has been termed "election tampering," led Attorney General Yehuda Weinstein to step in on Thursday and demand answers from the police.
Hatzel, who in February announced he supports Marzel and Otzma Yehudit, noted in a Facebook video Thursday that he read an article in Walla! saying Marzel was indicted for allegedly "attacking a human rights activist," Issa Amro. The incident took place in Marzel's hometown of Hevron back in February 2013.
"They emphasized the words 'human rights activist,'" Hatzel said of the report. "Anyone who took a second to check his name...discovered he isn't a 'human rights activist,' but rather a terrorist, a man who was arrested several times, for arranging violent protests against IDF soldiers and throwing rocks."
"Actually if B'Tselem are human rights activists, basically he is too," joked Hatzel, referencing a radical leftist group notable for, among other things, having a staff member who denied the Holocaust, and a cameraman who actively participated in anti-Israel riots, throwing rocks at IDF soldiers.
Hatzel remarked of the indictment "this whole thing stinks of political murder, because just now after two years, it was two years ago, they remembered they have to try him? Guys, the police attorney's office should be embarrassed. Since when are you the puppets of organizations like V15 and the New Israel Fund?"
Speaking more broadly about the elections and the negative campaigning targeting Otzma Yehudit, which follows in the ideology of former MK Rabbi Meir Kahane, he noted "I'm here in Tel Aviv, in all the city there are signs 'the Kahanists are returning to the Knesset.' Signs of Meretz, of their panic."
"Everything is panic here," he continued, "but they don't speak even for a minute about the fact that the third largest party in Israel is an Arab party."
"We fell here between right and left...and they (the joint Arab party) under our noses are going to establish ISIS (Islamic State) in the government," warned the rapper.
Commenting about the "hypocrisy of the left" given Labor's openness to a coalition government with the joint Arab list, Hatzel noted the media outcry after Jewish Home members made statements against homosexuality, but pointed out the left never bothered to mention the Arab party's position on the issue.
"I think they're also against (same-sex) marriage, they're more along the lines of hanging them from electric posts. But to form a union with them is okay," he added sarcastically.
"We'll see what will be after the elections," concluded the rapper.
Hatzel's video message, in Hebrew, can be seen below.