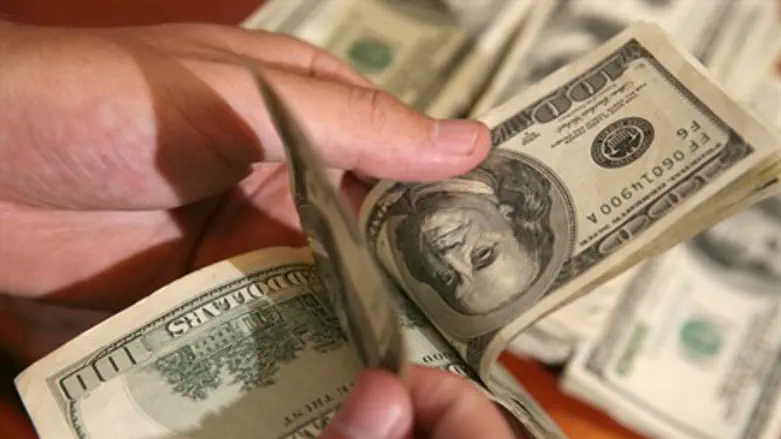 US dollars
Israel news photo: Flash 90
The dollar this week passed the NIS 4 level, reaching a three year high of NIS 4.05/dollar Wednesday night. And the ride up is not over yet, analysts said.
After flirting with the NIS 4 "border" for weeks, the dollar, which is strengthening against currencies around the world, continued its climb against the shekel, which has been one of the world's stronger currencies in recent years.
According to analysts at FXCM Israel, a currency brokerage and analysis firm, the current "round" of increases will continue for several days before things calm down, with the dollar likely to hit NIS 4.07 within days.
The ride up is not likely to stop there, either, said analysts. The dollar is experiencing a "perfect storm" of valuation, with a stronger US economy attracting investments away from Europe and China, which have shown weakness in jobs, demand, and production in recent months. Especially vulnerable is the euro, which on Wednesday hit a twelve year low against the dollar.
By next week, said analysts, the dollar and euro could be trading at parity, with the trend indicating that at some point in the near future the dollar will be worth more than the euro.
The euro has also been slipping against the shekel, and on Wednesday night hit its lowest value against the Israeli currency since 2002 – NIS 4.25/euro. The next target level for the euro will be NIS 4.20, the analysts said, as the dollar continues rising and the euro continues weakening.
Among the reasons for the strengthening dollar is the prospect of increased interest rates in the near future. The Federal Reserve Board is to meet next week to discuss the matter, and according to media reports the Fed has been "making preparations" to increase interest rates, although an actual increase is not expected until later this year.