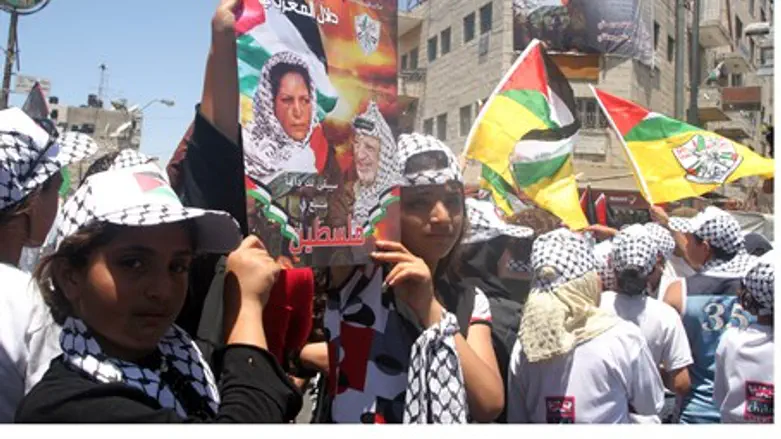 Dalal Mughrabi hero worship in Ramallah (file)
Issam Rimawi/Flash 90
Palestinian Authority (PA) Chairman Mahmoud Abbas's Fatah faction took the unusual step on Tuesday of more than doubling the number of Israelis murdered in a brutal terrorist attack from 1978, while glorifying the massacre on its anniversary.
Palestinian Media Watch (PMW) revealed that Fatah praised the March 1978 attack, which was committed by a group of Fatah terrorists from Lebanon led by Dalal Mughrabi.
The terrorists hijacked a bus on Israel's coastal highway, and when confronted by the IDF they slaughtered 37 civilians, 12 of them children, wounding another 70 before being neutralized. The attack is known as the Coastal Road massacre in Israel.
But in praising the attack, Fatah on Tuesday inflated the numbers, writing on Facebook "a huge self-sacrificing operation in Herzliya, Tel Aviv. 80 Israelis killed and over 100 wounded."
Fatah inflation: 80 or 37?
Palestinian Media Watch
The PA dedicated a square in Ramallah in the name of the terrorist Mughrabi in 2010; this year Fatah chose the square as the site of its public event on Wednesday celebrating the massacre she led.
"We will mark the anniversary of the heroic coastal operation, which was led by martyr Dalal Mughrabi, and the deaths as martyrs of Dalal and her heroic friends, at 3:30 p.m. across from Martyr Dalal Mughrabi Square in Ramallah," Fatah announced on Facebook Tuesday.
Just on Sunday Fatah honored another female terrorist, Amna Muna, in time for International Women's Day.
Muna facilitated the murder of 16-year-old Ofir Rahum in 2001 by meeting him in an online chat room and convincing him to meet her, at which point she drove him to Ramallah where he was murdered by her two terrorist accomplices. She was released from her life sentence in the 2011 Gilad Shalit deal and went to Turkey after refusing to be released to Gaza.