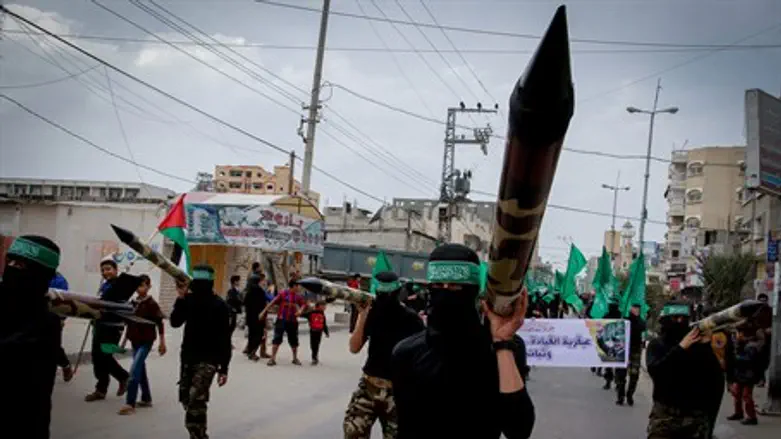 Hamas - not terrorists?
Abed Rahim Khatib/Flash 90
Despite its recent threats to kidnap IDF soldiers, Hamas is more than willing to sign a long-term cease-fire agreement - sometime in the near future, Walla! News revealed Monday. 
The terror group recently conveyed a series of messages to Israel which express interest in an agreement in exchange for lifting Israel's transport, import, and export restrictions on Gaza, Hamas and Israeli government sources revealed to the daily. 
The proposals, among other things, would have scaled back Hamas's vows to wage an "armed struggle" and obliterate Israel entirely, and would even include an agreement to a Palestinian state with eastern Jerusalem as its capital, the documents state. 
Israeli government sources confirmed that Hamas began talks with Western mediators due to the "difficult situation" in Gaza, which COGAT recently stated is in dire need of water and other resources. 
Diplomats mentioned as mediators include outgoing United Nations (UN) envoy to the Middle East Robert Serry and Swiss ambassador to the Palestinian Authority (PA) Paul Granier - both of whom became the prime representatives between Israel and Hamas. 
As part of the negotiations, Garnier visited Gaza last month and met with top terror leaders, including Musa Abu Marzouk, Bassem Naim, Ghazi Hamad and others. 
During his talks, Hamas officials made it clear that they are willing to agree to a ceasefire for at least five years (some sources claim this is fifteen years), which will stop all military operations "above and below ground," between Hamas and Israel.
In exchange, however, Israel would have to remove all restrictions on travel, exports, and imports on Gaza - a move sure to allow the terror group to accelerate the rebuilding of its weapons arsenal via Iran and other international backers. Hamas admitted earlier this month that it is already producing rockets to attack Israel again. 
A Hamas official confirmed to Walla! that the group is aware that nothing will happen before the Israeli elections next week, however. 
Days after Garnier visited Gaza, Hamas presented a document outlining their platform to Quartet envoy Tony Blair. The document, in English, allows for an establishment of a Palestinian state along 1949 Armistice lines, claims it has "a moderate ideology" that "believes in positive dialogue between different civilizations with no recourse to violence or oppression," and that their agenda is specifically against Israelis, "not against the Jewish people per se [sic]."
Hamas claims that it is "interested in maintaining calm" and that it wants to construct an airport and seaport, coordinating with Israel through various mediators to do so. 
Internally, the group stresses that it "respects the rights of women," wants to reconcile with various Palestinian factions (despite multiple reports of a crackdown on Fatah in Gaza), and "has taken all necessary measures and made concessions needed for reconciliation [with Fatah - ed.]." 
The document, after these manifestos, is signed, "The Islamic Resistance Movement - Hamas." 
Hours after the initial report was published, Serry clarified that his proposal to Hamas extended for three to five years - not fifteen - and while it included a lift on transport and import restrictions, it would also place Gaza under the "unity" government, i.e. the PA. PA 'prime minister' Rami Hamdallah would be given exclusive sovereignty over the region, without their involvement, he said; he added that both Israel and Hamas have yet to respond.
Hamas spokesman Sami Abu Zuhri has denied Hamas's involvement in talks following the exposé.