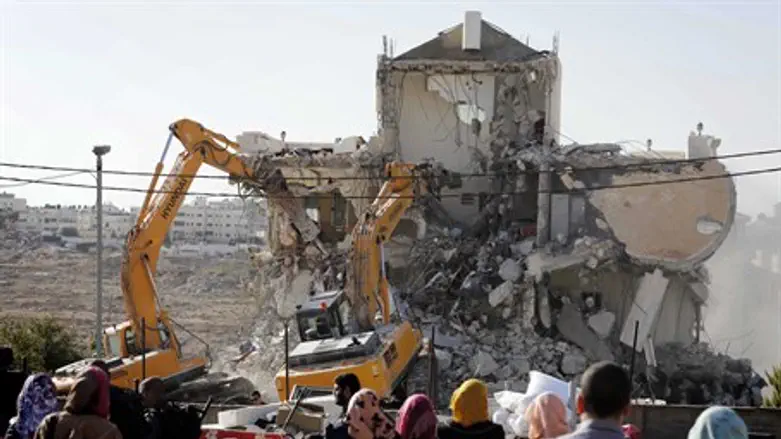 Demolition of illegal Arab building
Flash 90
IDF Central Command chief Maj. Gen. Nitzan Alon is cracking down on illegal Palestinian Arab settlements in the Jordan Valley, Haaretz reports Sunday, after finding that they are being built in an IDF firing zone.
Firing Zone 912 was established more than 40 years ago, according to the daily, and extends from Ma'ale Adumim to the Dead Sea. The base is still used by the IDF for training - particularly the Armored Corps - and covers about 150 dunams (37 acres).
Alon reduced the firing zone's area in January to construct 88 housing units in the Nofei Adumim neighborhood, the daily adds, but accuses him of "indiscriminately" allowing Palestinian homes to be demolished in the area to make way for Israeli construction just outside the capital. 
However, Palestinian Arabs and Bedouin have been rampantly building illegally on Israeli areas of Judea and Samaria, as rights group Regavim revealed in a report several months ago. Aided by the European Union (EU), the goal is ostensibly to change facts on the ground to aid the argument for establishing a Palestinian state over 1949 Armistice lines. 
Several illegal buildings appear to have flourished in the area unobstructed by the force of Israeli law or by the Civil Administration. When damning photo evidence of Arab illegal building surfaced in November 2013, it was met with a conspicuous silence by the US and EU. 
However, demolitions have been increasing recently, Regavim noted in February - with demolitions apparently picking up after peace talks with the Palestinian Authority (PA) failed in April. Just last month, an illegal Arab center in Samaria was finally destroyed after a long legal battle.