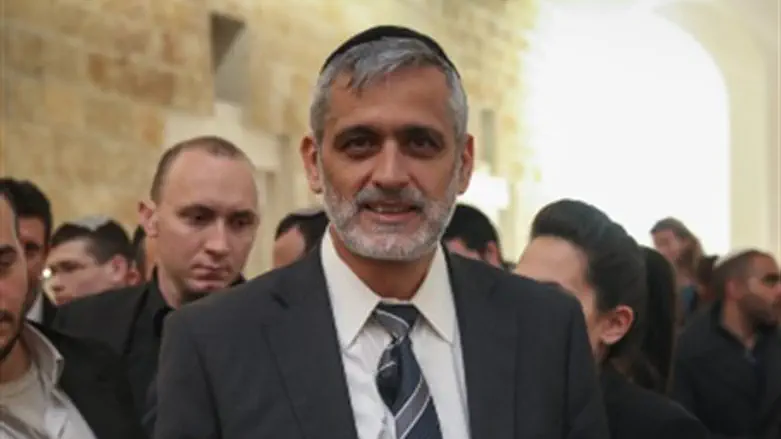 Eli Yishai
Hadas Parush/Flashh 90
Additional recordings of Shas spiritual leader Rabbi Ovadiah Yosef are so damning for the party that it would fail to make the Knesset threshold, Yachad-Ha'am Itanu chairman Eli Yishai stated Saturday night. 
"I have the tapes - and if I publish them, Shas will not pass the threshold," Yishai stated in an interview on Channel 2's "Meet the Press."
"This could be earth-shattering," he added, noting that Yosef had told Shas supporters "not to betray" him when Shas leadership returned to current chairman Aryeh Deri after the latter was released from prison. 
With regard to claims that he is acting against the will of Rabbi Ovadia by making the tapes public, Yishai simply said that "what I'm doing right now is the will of Rabbi Ovadia Yosef." 
Yishai has argued that he was not involved in the slew of previously leaked recordings, which showed Rabbi Yosef in private meetings condemning Deri for his corruption that had him jailed in 1999 and explaining he didn't want to reappoint him as head of Shas - and even going as far as to refer to him as "evil."
Another recording revealed it was Deri who was behind Shas's position on Oslo, and not Rabbi Yosef as Deri later claimed.
In yet another recording, Rabbi Yosef is seen calling Yishai "my favorite, I love you – you are invited to be with me in the World to Come."
While Shas may have condemned the "recordings enterprise," Shas asked that Rabbi Yosef's children provide them with video footage of the deceased rabbi to be used in a campaign promotional clip, which they refused over growing tensions with Deri.