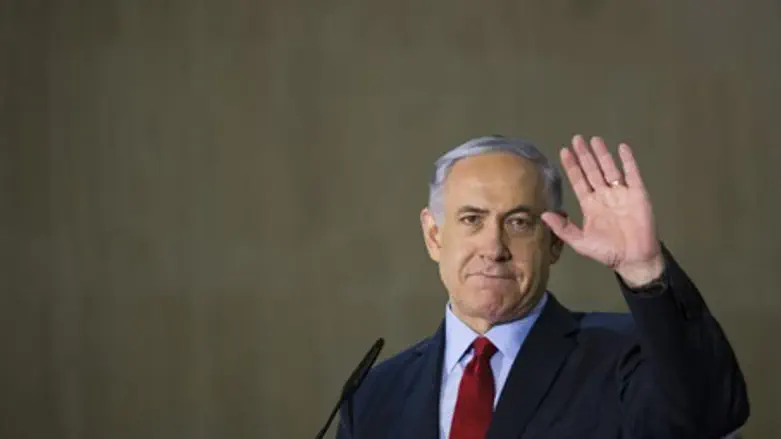 Binyamin Netanyahu
Yonatan Sindel/Flash90
A document from August 2013 showing surprising concessions offered in secret talks between Prime Minister Binyamin Netanyahu's representative and a Palestinian Authority (PA) representative was reported on Friday by leftist journalist Nahum Barnea in Yedioth Aharonoth.
According to the report, Netanyahu's representative Yitzhak Molcho held secret talks for several years with Oxford University professor Hussein Agha, thought to be a representative of PA Chairman Mahmoud Abbas.
Agha is Lebanese but joined the Palestine Liberation Organization (PLO) terrorist group in his youth and is thought to be close to Abbas; however, the talks reportedly broke down after it became clear they didn't have Abbas's backing.
The document in the report is defined as a "proposal to a document of principles regarding a fixed situation," and despite being written over a year ago was written during Netanyahu's previous coalition government. 
The Yedioth Aharonoth report claims the document offers a bevy of concessions including a return to the 1949 Armistice lines with land swaps on a meter for meter basis, certain recognition of PA aspirations for Jerusalem, a PA hold in the Jordan Valley, a possibility for "Palestinian refugee" return on an individual basis, the evacuation of Jewish communities in Judea and Samaria, and leaving some Jewish residents under PA rule.
"The sides agree that Palestine will be an independent and sovereign state on de facto territory that regarding its size will relate to the territory under Egyptian and Jordanian control before June 4, 1967," the document reportedly reads.
"The Israelis who choose to stay in their places in the state of Palestine will live under Palestinian law...there will be full withdrawal by stages of Israeli forces from the territory of Palestine. The last Israeli forces will be evacuated when the final stage of the agreement is conducted," it continues.
Regarding Israel's capital city of Jerusalem, it reads "any solution must deal with the historical, social, cultural and emotional connections between the two peoples to the city and guard the holy sites."
Netanyahu rebuts
In response to the report, the Prime Minister's Office released a statement saying "at no stage did Prime Minister Binyamin Netanyahu agree to withdraw to '67 lines, to divide Jerusalem or to recognize the (Palestinian Arab) right of return. That was and remains his position."
"The conversations of Attorney Yitzhak Molcho were conducted with American involvement and did not lead to any agreements. They dealt with an attempt to create an American proposal to start up the peace talks, in which each side could disagree with the clauses that they don't accept," explained the statment.
"Through the years a large number of drafts were placed (on his desk) and an agreement wasn't presented on any one of them, and even if an American draft was placed, the prime minister made clear in advance he will express his opposition to clauses that oppose his position," it concludes.
Despite the rebuttal, it has been noted that in his controversial 2009 Bar Ilan speech Netanyahu in principle accept the two-state solution of creating a Palestinian state within Israel. Likewise Jerusalem Councilman Arieh King has reported that Netanyahu has been dividing the capital in a de facto manner since he took office in 2009.
Jewish Home chairman Naftali Bennett quickly responded to the report, saying "the masquerade is over. The next Disengagement is already here, and again is led by the Likud and Tzipi Livni."
According to Bennett, "the 2015 elections have turned into a national referendum on the establishment of Palestine on 67 borders, and Jewish Home is the last dam to prevent turning Ariel and Eli to ruins."