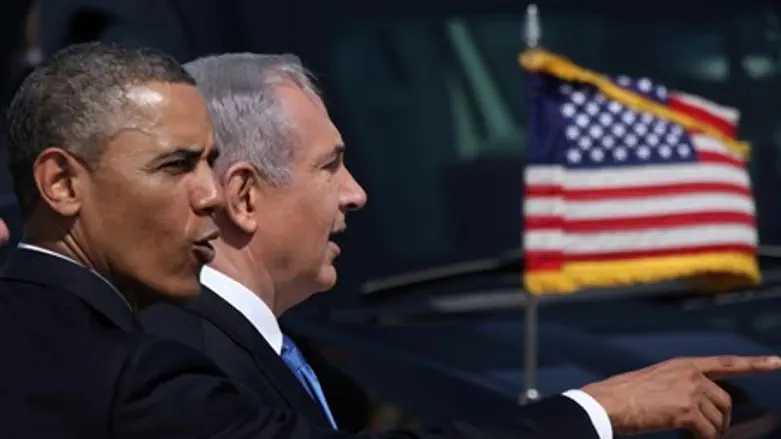 Barack Obama, Binyamin Netanyahu
Flash 90
The White House on Monday denied rumors that it will curb US aid to Israel in response to a disagreement over Prime Minister Binyamin Netanyahu's opposition to a deal with Iran, which he warns will leave it with nuclear capabilities.
As Netanyahu visited Washington to make the case against a looming deal with Tehran - US President Barack Obama's top foreign policy goal - the White House sought to quell reports that vast US military aid could be cut as a result.
Israeli media has suggested the Obama administration could trim some of the roughly $100 billion in existing aid and drag its feet on requests for more help with programs like the Magic Wand missile intercept system and the Arrow 3 weapon.
"The report is false" said National Security spokesperson Bernadette Meehan.
The report follows another report by a Kuwaiti paper claiming that Obama had threatened to shoot down an IAF strike on Iran's nuclear facilities, which the US denied.
Regarding defense aid, Obama blocked a routine shipment of Hellfire missiles to Israel during Operation Protective Edge last summer in a move that raised many eyebrows regarding his support of Israel's actions to defend itself from the Hamas terrorist organization.
Obama has refused to meet Netanyahu during his visit to the US capital.
Meanwhile Netanyahu has portrayed the split over the best way to deal with Iran as a family disagreement, but stressed Israel's right to act to defend itself from the Iranian Islamic regime that has threatened it with destruction even while pursuing nuclear weapons.