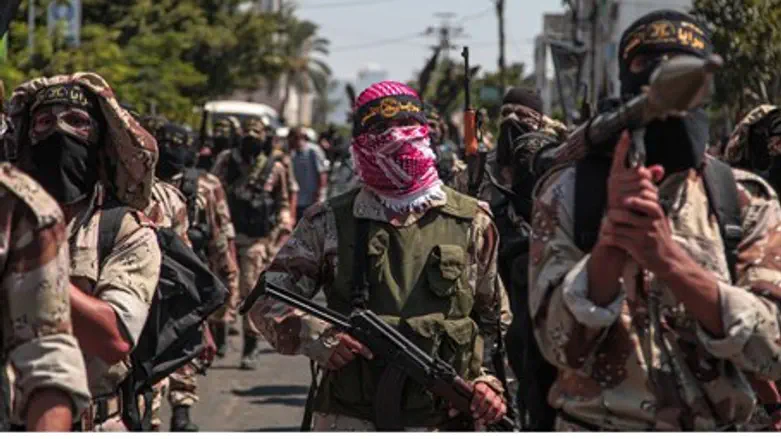 Islamic Jihad terrorists during Gaza "victory" parade
Flash 90
The Islamic Jihad terror group is acting as a mediator between Egypt and Hamas – which Cairo courts recently declared a terror organization – according to Palestinian reports.
A senior delegation of Islamic Jihad leaders headed by the movement's secretary general, Ramadan Shallah, held talks with senior Egyptian officials Saturday, according to the MINA Islamic news agency.
MINA quoted the deputy secretary general of the Islamic Jihad, Ziyad al-Nakhalah, as saying, "The sudden visit falls in line with the Palestinian duty to seek a gleam of hope to relieve the people in the Israeli-besieged Gaza Strip."
Nakhalah reportedly said that the main issues being discussd are the opening of the Rafah border crossing and Gaza reconstruction.
"Egypt has showed a clear interest in the Islamic Jihad propositions to resolve the outstanding crises, especially the crossing," he added.
Nakhalah said that the delegation has met with several Egyptian leaders and "has been waiting for the appropriate time" to address some issues with Hamas leaders including Mousa Abu Marzouk, who is already in Cairo.
"The meeting aims at coming up with a comprehensive solution to be bound by all of the parties before the Egyptian leadership", he said.
Relations between Islamic Jihad and Egypt improved following last summer's Operation Protective Edge, due to the organization's "flexibility" over indirect talks with Israel on a cease-fire, according to Haaretz.
Egypt is conditioning uts agreement to an arrangement at the Rafah crossing on the resumption of control of the crossing on the Palestinian side by the Palestinian Authority. The PA lost control of Gaza in 2007, when it was ousted by Hamas.
For its part, Hamas insists that its own security forces, remain in place as part of the PA presence at the border.