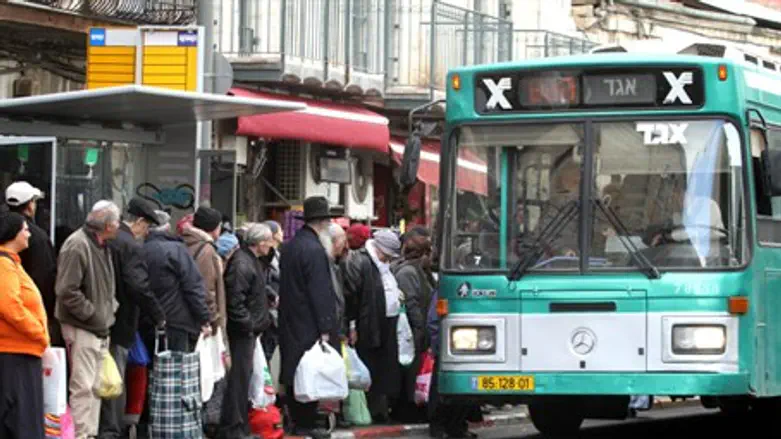 Jerusalem Egged bus
Flash 90
The Egged Transportation bus company has stopped service in cities across Israel Monday, leaving passengers stranded.
Service has been suspended in Ashdod, Netanya, Mevasseret, Givat Ze'ev, Ma'ale Adumim, Netivot, Ofakim, the Gaza envelope, and on routes between Ashkelon and Be'er Sheva. 
In Ashkelon itself, as well as Sderot and Kiryat Gat, service is partially suspended with severe disruptions. Similar service disruptions are also being felt in Judea and Samaria.  
Egged Transportation's management announced the suspension of service after the bus drivers' union said Sunday that passengers across Israel would be allowed to ride for free on monday. 
Management alleged that instead of engaging in negotiations to form a new collective agreement, the union is trying to put pressure on the company in other ways. 
On Sunday night, Egged Transportation's management sent a letter to all drivers, noting that any driver who only works part-time and refuses to accept fares on Monday will be sent home without pay. 
According to the company, not charging passengers is illegal and "no different from cashiers allowing shoppers to leave a supermarket without paying." 
"The workers' union went a step too far and instead of fighting the wage conditions internally, it strikes out at the passengers," Egged Transportation CEO Gideon Mizrahi said. "I urge drivers to stop these unnecessary sanctions and return to dialogue," he added. 
"I hope the union will take responsibility and bring drivers back to work so as to meet our obligations to the public who want to get to work and to school."