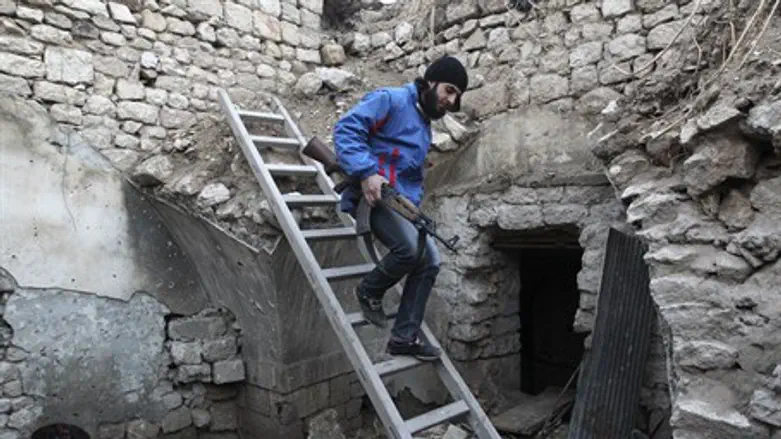 Free Syrian Army fighter in Aleppo
Reuters
The World Health Organization on Tuesday appealed for $1.0 billion in additional funds to help provide life-saving health services to millions in need in conflict-ravaged Syria, Iraq, Central African Republic and South Sudan, AFP reports.
"Raging conflict and beleaguered health services are threatening the health of tens of millions of people" in the four countries, WHO said in a statement.  
The UN health agency asked international donors to cough up the funds needed to provide services such as surgery for those wounded in the conflict zones.
The WHO said the funds would also help make available childhood vaccinations and treatments for non-communicable diseases like cancers, diabetes, heart and lung diseases to communities often forced to do without.  
The WHO made the $1.0-billion appeal Tuesday at a special meeting in Geneva attended by more than 50 donor countries.
Of the $1.0 billion requested, WHO itself requires $322.7 million to deliver health services this year to more than 21 million people in the four countries - most of them women and children, it said.
The rest would help finance the health divisions of other UN agencies and humanitarian organisations, WHO said.  
More than half of the requested funds - $687 million - is needed for Syria, which has been devastated by nearly four years of civil war that has killed more than 210,000 people and driven half the population from their homes.
WHO painted a dire picture of the health situation in Syria, where more than half of all hospitals are only partially functioning or completely out of service, and where local medicine production has plunged 70 percent, making it impossible to get hold of many life-saving treatments.
The number of doctors and other health workers in the country has meanwhile dropped 45 percent since the conflict began in March 2011, and vaccination coverage has plunged from 90 percent to only 52 percent today.
At the same time, Syria is dealing with an average of 25,000 injuries each month and lacking surgical supplies, while a dramatic drop in access to safe water and overcrowding is leading to an increase in infectuous diseases.  
For neighboring Iraq, WHO said $218.7 million was needed to provide some four million people with health care.
Iraq, which has seen more than two million people displaced in the past year as the Islamic State jihadist group has grabbed swaths of territory, is also hosting more than 235,000 Syrian refugees.  
For South Sudan, which has been wracked by fighting since an alleged attempted coup in December 2013, $90 million is needed to provide vital health services to some 3.35 million people, WHO said.
And finally the devastated health sector in the Central African Republic, which has seen nearly two years of sectarian unrest, will need $48 million this year to help some 1.47 million people, the UN health agency said.