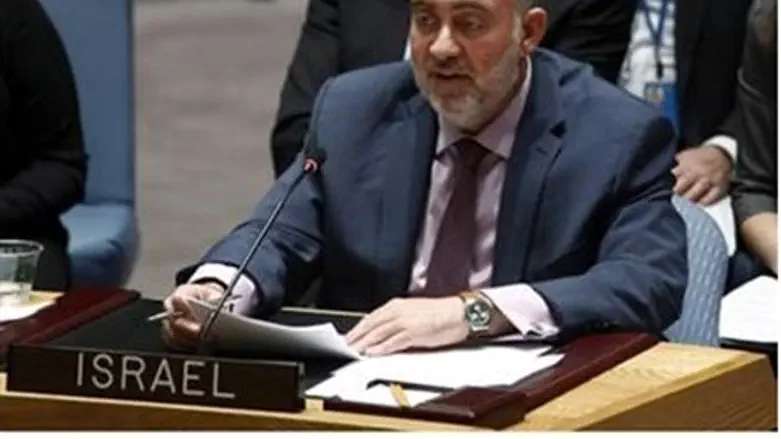 Ambassador Ron Prosor
Reuters
Israel's Ambassador to the United Nations, Ron Prosor, on Monday spoke at a Security Council Session devoted to maintaining international peace and security.
Prosor referred to the Academy Awards ceremony, the Oscars, that took place the night before, and provided his take of what the Oscars would look like if they were handed out by the UN.
"If the Oscars for Maintenance of International Peace and Security were given at the UN, I would not be surprised if these candidates were awarded a prize:
In the Best Actor Category – for acting like a peace loving country while developing nuclear capabilities, denying the Holocaust, and threatening the destruction of another member state… the Oscar goes to Iran," he said.
"In the category for Best Supporting Actor – for its unrelenting support to the Assad Regime in killing hundreds of thousands civilians… the Oscar goes to Hezbollah.
In the category for Best Visual Effects – for making women disappear from the public sphere, the Oscar goes to… surprise surprise… Saudi Arabia. No competition there," said Prosor.
"And finally, for rewriting history, the Oscar for Best Editing goes to… the Palestinian Authority. But the truth is – the Palestinian Authority already received enough prizes from this institution," he concluded.
The Israeli Ambassador has often called on the UN to condemn the Palestinian Authority (PA) for its incitement and terrorism, and has also pointed out the UN's tendency to single out Israel for criticism.
Prosor also warned the world body that it was encouraging the PA to run away from peace negotiations and noted the PA sees the UN as its "personal vending machine".