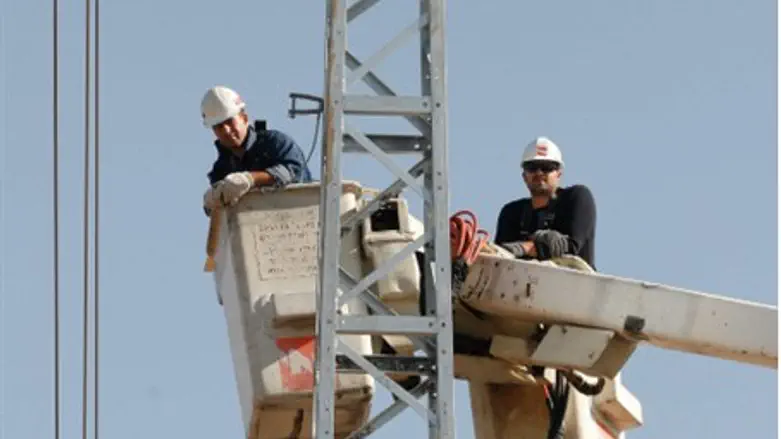 Illustrative
Flash 90
The Israel Electric Corporation (IEC) has returned power to Palestinian Authority areas it briefly cut off from the grid Monday afternoon, in protest over the PA's refusal to pay the nearly half a billion dollars it owes.
Earlier Monday, chairman Maj. Gen. (res.) Yiftah Ron-Tal announced at the 12th Jerusalem Conference on Monday that in the coming hours, IEC will start limiting power supply to the Palestinian Authority (PA) in Judea and Samaria.
IEC announced late last month that "due to a mounting debt worth nearly 1.8 billion shekels ($459 million), we have decided that...electrical supply will be cut," with the cut to include an hour each morning and another hour at night, until the PA starts to pay up.
"I said here a year ago that it can't be that someone who gets electricity and doesn't pay we cut them off, but an entire population that doesn't pay electricity - we don't cut them off," said Ron-Tal, noting that the PA owes almost 2 billion shekels.
"But a year has passed since I said that last time, and this afternoon we will start limiting the electric current to the Palestinian Authority," revealed Ron-Tal to applause.
Last year IEC also submitted a petition to the Jerusalem District Court, demanding a payment of 531 million shekels (around $137 million). 
The petition was filed against Jerusalem District Electricity Company (JDECO) in eastern Jerusalem that purchases electricity from IEC and sells it to the PA, as well as to Hamas-ruled Gaza.
The confrontation over the PA's long overdue electric debts come after Israel froze taxes it collects for the PA as a punitive response to the PA unilaterally joining the International Criminal Court (ICC) to sue Israel, in a unilateral move breaching the 1993 Oslo Accords that formed the PA.
Some have suggested that the taxes, reportedly amounting to roughly $140 million a month for the past two months, be used to pay the PA's electric debts.
It was previously reported that in order for the IEC to enforce its decision to limit PA electricity it needed the approval of Prime Minister Binyamin Netanyahu and also had to go through Israeli security officials. IEC has reportedly tried to carry out the move several times in the past but was prevented from doing so by the premier's office.