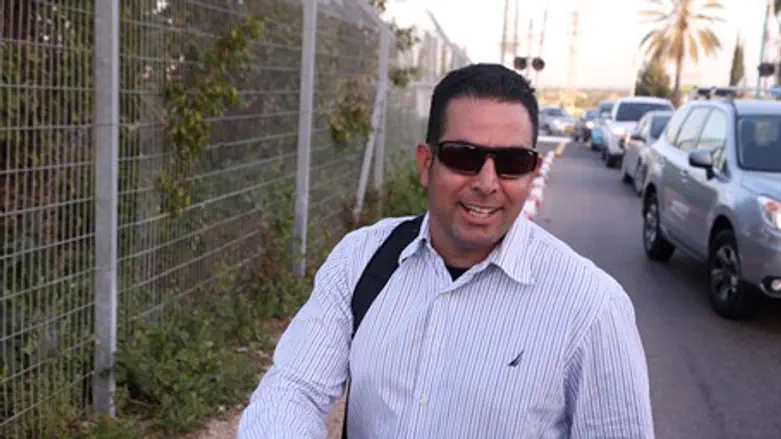 Menny Naftali
Flash 90
The police announced on Thursday that Menny Naftali, the former housekeeper in the Prime Minister's Residence who is suing Binyamin and Sara Netanyahu for alleged abuse, will receive immunity from prosecution over testimony on alleged financial misconduct at the home.
Naftali, who met with investigators from the Lahav 433 unit of the police, has claimed he has evidence of alleged criminal acts in the Prime Minister's Residence. The immunity was granted to him after he asked two weeks ago  to be protected from self-incrimination in exchange for his testimony.
The announcement of the immunity follows some back and forth accusations between the Netanyahus and Naftali. Earlier this week, State Comptroller Yosef Shapira published a report which found that the Prime Minister's Residence expenses went from 1.86 million shekels in 2009 to 2.4 million shekels in 2010, inflating further to 3.11 million in 2011. This ballooning trend stopped in 2012 when the expenses fells to 2.86 million shekels, and further to 2.41 million shekels in 2013.
The Likud responded to the findings by blaming the increase in 2010 and 2011 on Naftali, who followed suit by holding a press conference with his attorney in which both denied that the Likud's statements were true.
Before police announced his immunity from prosecution, Naftali had announced that he would soon file a libel suit in response to the Likud placing blame on him for the increased spending.
"Naftali met with one of the leading lawyers in the field of defamation, and he's not going to ignore the false defamation campaign waged against him by the Netanyahu family and the repeated attempts to hurt him," his associates said.
The Likud party responded to the impending libel suit and said, "The claim of Naftali that he is the victim is absurd and ridiculous as are all his other false claims. Naftali has been holding for months a smear campaign against the prime minister's wife, even though she is not a party to the lawsuit he filed, in order to illegally waste state funds and hurt the government and the Likud in the upcoming elections."
"Now that it has been proven that the expenses in the Prime Minister's Residence jumped and were inflated during Naftali's time and went down after his departure, and after it was revealed that he has provided two different versions as to why he left the Prime Minister's Residence - Naftali understands the legal implications of his serious behavior with all that implies under the law," the Likud statement added.