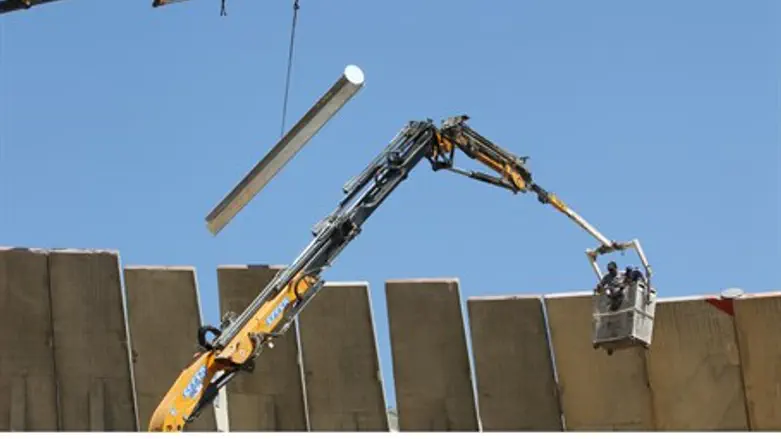 Construction of Gush Etzion barrier (file)
Flash 90
The period between October and December 2014 was the most active on the Israel real estate scene on an annualized basis since 2002, the Central Bureau of Statistics said Wednesday. During the fourth quarter, 8,100 new homes were sold in Israel, while Israelis also bought some 20,000 second-hand homes.
One of the reasons for the sharp increase was the arrival on the market of thousands of young couples who had been holding off on buying in order to take advantage of the government's zero-VAT plan on new homes.
The plan would have knocked 18% off the price of homes, but as it became clear that the plan was to be shelved, buyers began returning to the market – to the extent that ten thousand of the homes sold in the fourth quarter were to young couples that would have been eligible for the VAT plan.
Housing experts said that the perception – and eventual announcement – that the VAT plan was off the table was "clearly" the reason for the sharp changes in the direction of the market, despite the fact that housing prices in Israel remain high. Home sales increased significantly in all parts of the country, except for Jerusalem, where prices were on average higher than elsewhere.
The 28,000 homes sold represent a 22% increase over the the previous quarter. The 8,100 new homes sold represent a 52% increase in that segment over the previous quarter.