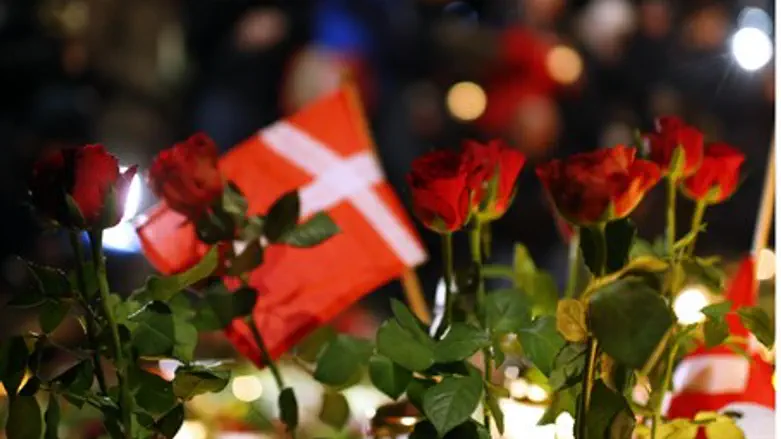 Copenhagen Memorial Rally
Reuters
Denmark prepared Wednesday to bury a Jewish man murdered in a weekend terrorist shooting spree as questions mounted about whether more could have been done to prevent the attacks.
Dan Uzan, a 37-year-old volunteer security guard, was killed outside Copenhagen's main synagogue in the second of two shootings that sent jitters across Europe, reports AFP.
Security services in Denmark have come under scrutiny over what action had been taken to prepare for possible attacks in the wake of the Islamist killings in Paris just weeks before.
Danish intelligence acknowledged on Tuesday that the suspected gunman, identified as 22-year-old Omar El-Hussein of Palestinian Arab origin who has a history of violent crime, had been had been flagged up as being at risk of radicalization while he was in prison.
But police dismissed criticism they had failed to boost security after the Paris attacks in January that killed 17 people including four Jews.
"The security level was raised after the incident (in Paris)," Peter Dahl, a senior police official, told the Jyllands-Posten newspaper.
But members of the Jewish community in Denmark have said they did not notice any increased police protection ahead of the Copenhagen attacks, according to the paper.
El-Hussein launched his rampage on Saturday, first firing off dozens of rounds outside a cultural center where a debate on Islam and free speech was taking place.
Finn Noergaard, a 55-year-old Danish documentary film director, was shot dead and three police officers were wounded.
Several hours later, El-Hussein opened fire outside the main synagogue in the Danish capital where a bar mitzvah was being celebrated, killing Uzan and wounding two policemen.
The attacker was shot dead in a pre-dawn shootout on Sunday. Two men have been charged with helping him dispose of his weapon and giving him somewhere to hide.
Sufficient protection for Jews?
Local media reported that El-Hussein had only been released from prison two weeks ago after serving time for assault.
The Berlingske daily quoted unnamed friends as saying he came out "a changed person."
The Danish intelligence agency said Tuesday the prison service had raised concerns last year that El-Hussein was "at risk of radicalization" but that there was no evidence he had been planning attacks.
Leading politicians from the center-right opposition have proposed talks with the government about improving the ability of the nation's police force to counter terrorism.
"If there are flaws in the equipment used by the police or in the training and resources provided for the police and intelligence service, we're prepared to discuss it with the government," Conservative leader Soeren Pape Poulsen told the daily Politiken.
Copenhagen police revealed that the gunman had tried unsuccessfully to use several entrances to the cultural center before peppering the windows with bullets.
Witnesses have said that the death toll could have been far higher if he had managed to enter the building.
One of the participants at the debate was Swedish cartoonist Lars Vilks who was believed to be the target of the attack and has now been
forced into hiding.
Swedish police guarding Vilks helped prevent further bloodshed by opening fire during the attack, a fellow officer told local media on Wednesday.
"They believed that the attacker was hit. But he may have been wearing a bulletproof vest," the unidentified officer told Sydsvenskan.
The rampage, coming so soon after the Paris attacks, has triggered fears of a new surge in anti-Semitic violence and saw several European nations rush to reassure their Jewish communities.
Sweden's public radio station Sveriges Radio apologized Tuesday after one of its journalists asked the country's Israeli ambassador if Jews themselves were "responsible for the progression of anti-Semitism?"
SR offered its "fullest apologies" and said: "The Jewish community has suffered a horrible act of terror and has all our sympathy."
Danish Prime Minister Helle Thorning-Schmidt has repeatedly expressed solidarity with the country's Jewish community, which numbers between about 6,000 and 8,000.
"An attack on the Jews of Denmark is an attack on Denmark, on all of us," she told a mass torchlit vigil on Monday for the attack victims.