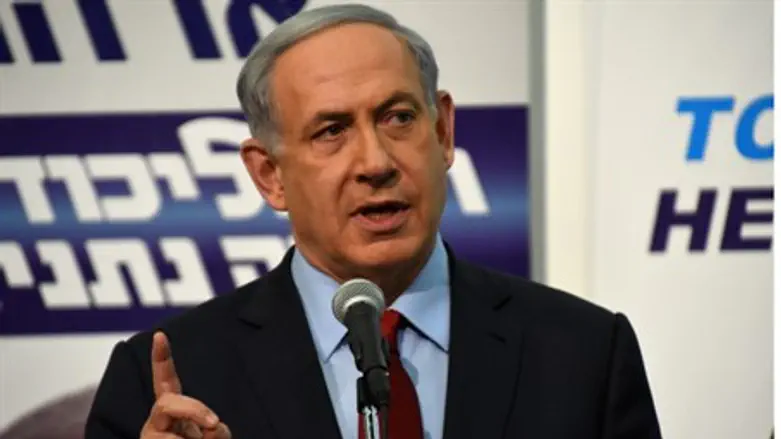 Binyamin Netanyahu
Gili Yaari/Flash 90
Arutz Sheva revealed last week that Prime Minister Binyamin Netanyahu plans to visit the Gush Etzion community, days after a visit to Samarian town Eli on Wednesday. 
Now it appears Netanyahu has decided to expand the trip and will also visit the Cave of the Patriarchs in Hevron. 
Many have postulated that the visits - to places that are not necessarily major outposts of support for the Prime Minister - are an attempt to draw voters away from Jewish Home and Yachad-Ha'am Itanu. 
Indeed, national camp officials are furious at Netanyahu, because of what they're calling "an attempt to gather votes from within the right bloc instead of acting to expand."
Sources added that the last time Netanyahu visited communities in Judea and Samaria, it was on the eve of the last election. 
Jewish Home politicians have been in an uproar about the Eli visit, even going so far as to call Netanyahu's actions a declaration of "war" on their party. 
The Prime Minister "is critically harming the chances of the right to win. In polls we were over 40 mandates together, and his work against Jewish Home is what dropped the two parties together to less than 35 mandates," Jewish Home said Friday. 
Netanyahu tried to placate Jewish Home Friday after they accused him of trying "to eliminate the party," and establish a coalition with his Labor rivals after elections. 
Likud and Jewish Home have had an ideological partnership for many years, Netanyahu said, adding "Jewish Home will be a senior partner in my next government to the consternation of those wanting to see two medium-sized rightist parties in the opposition and an extreme leftist government in power."
Still, the announcement of the Gush Etzion trip have left many unconvinced. 
MK Ayelet Shaked (Jewish Home) wrote Sunday morning that Netanyahu's planned visit to Gush Etzion and Hevron is a "sad attempt to use Judea and Samaria residents during elections."
"Netanyahu should try to increase the bloc by taking votes from other worthless parties, but not from Jewish Home. His attack on Jewish Home voters leads to the unequivocal conclusion that he's headed toward a unity government. Just voting for Jewish Home will ensure a right-wing government," Shaked added.