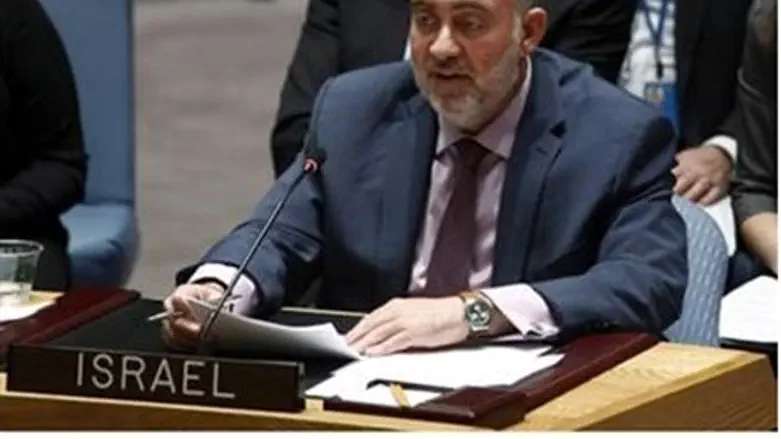 Ambassador Ron Prosor
Reuters
Six months after the end of Operation Protective Edge in Gaza, Israel has warned the international community that Hamas is actively preparing for another war. 
Israeli Ambassador to the UN Ron Prosor wrote to the UN Security Council this week over the "alarming development in our region," according to Walla! News, noting that "Hamas is preparing to launch an attack [on Israel]." 
Prosor also wrote that the terrorist organization is actively restoring its terror tunnels designed to target Israeli civilians, urging the global community to act quickly to prevent another outburst of hostilities. 
Hamas "is preparing to attack through rearming, rebuilding its terrorist infrastructure and clarifying its commitment to war against Israel," Prosor warned in the letter. "Hamas is working around the clock to restore its weapons manufacturing capabilities and its military capabilities. It is determined to attack Israel from land, air and sea."
Prosor referred in part to Hamas "test launches" of rockets off the Gaza coast last month. 
"Rather than rebuild Gaza, Hamas is busy boosting its terrorist infrastructure," he warned. "Over the past two months, it shot some 90 rockets into the Mediterranean Sea." 
Hamas "has worked tirelessly to rebuild its terror tunnels," Prosor warns. "These tunnels are used for infiltration into Israel and to attack Israeli civilians."
No doubt, Prosor concludes, Hamas "is preparing for another confrontation with Israel. I urge the Security Council to address the issue immediately, before the situation deteriorates further." Prosor handed a copy of the warning letter to UN Secretary General Ban Ki-Moon.
Hamas has not only been conducting tests; since the truce terrorists in Gaza have breached the ceasefire at least three times in rocket barrages on Israel, which Hamas has denied responsibility for despite being in control of the coastal enclave.
The most recent attack occurred in December, just days before the last rocket test, and one day after Hamas held its largest military exercise since Operation Protective Edge. 
In response to the rocket attack, the IAF struck Gaza concrete factories used to rebuild the terror tunnels leading into Israel to attack Israeli civilians. During the operation, the IDF destroyed over 30 such tunnels, but since it ended Hamas has been busily rebuilding them.