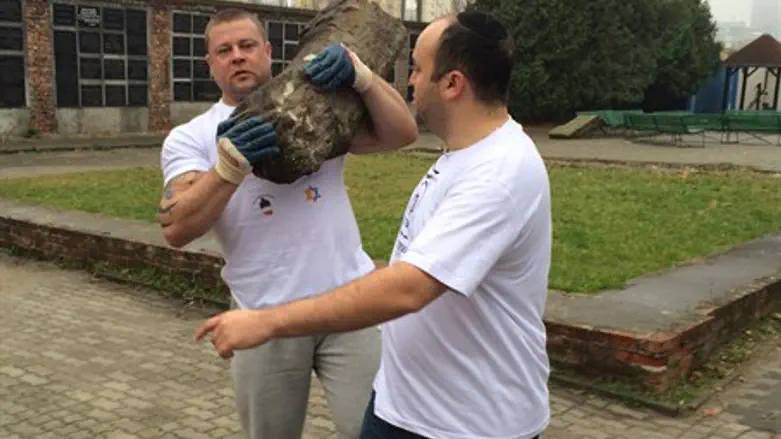 Project Matzeva in Poland
Arutz Sheva
Several months ago Johnny Daniels, founder of Mimaamakim (From the Depths), announced the launch of "Project Matzeva" meant to locate and renovate scattered matzevot (gravestones) from around Poland and return them to the Jewish cemeteries.
In the years following World War II, many Polish residents used Jewish gravestones as building and paving material. To rectify the situation Polish volunteers, including archaeology students from Warsaw University, are taking part in the project.
Starting last November cooperation began between Mimaamakim and the Polish "Iron Man" body building organization, taking activities to the next level.
"We were called by a couple that purchased land in central Warsaw," said Daniels. "They found a large stone with different decorations and quickly understood it was a gravestone. When we arrived we saw the stone weighed over 300 kilograms (over 660 pounds)."
Daniels explained "instead of getting mechanical equipment to raise the stone, we contacted the Polish 'Iron Man' organization, and they happily volunteered to help us."
Recently Daniels' NGO and "Iron Man" signed an agreement, through which the organization will become an official partner of the NGO.
"That means that every time we find a gravestone anywhere in Poland, we can contact them and they'll come help us bring it back to the cemetery," said Daniels. He noted "Iron Man" has over 100 members.
The agreement breaks down stereotypes that muscular skin-heads are neo-Nazis and anti-Semites, says Daniels.
"We still have a long way to go in terms of changing the general treatment of Poles towards Jews, but this is a great starting point," said Daniels, noting the head of "Iron Man" and several other members plan to join him and other Jews for a Shabbat meal and learn more about Judaism.
"A few days ago we even got a phone call from one of the members of 'Iron Man' who told us he heard about an ancient Torah scroll that one of the residents of the village is holding after his family kept it for many years. Now he wants to return the Torah scroll to us," he added.
Aside from "Iron Man," Mimaamakim has cooperative agreements with five large Polish universities, as well as fire departments, municipalities, and a Christian group, revealed Daniels, saying "we're creating a popular movement in Poland."
According to the Mimaamakim head there's a growing resurgence of interest in Judaism in Poland. He said every week he lectures about the Holocaust and Judaism to local schools, and that he is working with the education ministry on a special class on Jewish tradition that will focus on "Project Matzeva."
"Thanks to the coverage given to us by the Polish media, up till today we've received over 2,000 e-mails and phone calls to the 'Project Matzeva hotline' concerning gravestones that were taken for improper use, mass graves of Jews murdered in the Holocaust, items plundered from Jews, Torah scrolls and more," said Daniels.
"We're trying to convince the international Jewish community to create one database to help people locate gravestones of their loved ones, in Poland and anywhere else," he concluded.
Project Matzevot Arutz Sheva