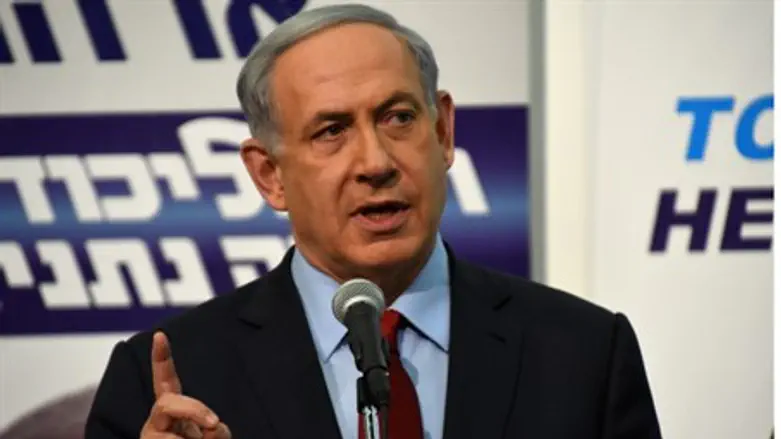 Binyamin Netanyahu
Gili Yaari/Flash 90
Contrary to what the media is saying, the US will invite Prime Minister Binyamin Netanyahu with open arms, the Chairman of the Republican Party in Israel, Attorney Marc Zell, stated Wednesday. 
"In Israel there is a kind of media storm around this, but in the US it does not exist," Zell stated in a special interview with Arutz Sheva. "There may be a small handful of radical leftists from within the Democratic Party, in the wake of what is happening here in our press, who are expressing opposition to the address - but most members of Congress, including Democrats, want to welcome the Prime Minister." 
Zell also noted that US President Barack Obama's excuses not to meet with Netanyahu, due to the proximity of elections, do not hold up to criticism. 
"This are very important issues which are far more important protocol and etiquette, and even electoral considerations are weak against the issue of principle," he stated, referring to Netanyahu's intentions to address Congress over Iran. "Therefore the majority of the United States is interested in this, even though the White House is trying to cover it up." 
According to Zell, Netanyahu's visit could change public opinion in the US. 
"The White House wants an agreement with Iran at any price, and the US is on the verge of surrendering to almost all of Tehran's demands," Zell warned. "The Israeli Prime Minister, who is the #1 expert in the world on this regard, has warned us of the threat and called on the international community to impose sanctions, and will likely alert [the US] to this in his speech." 
"Netanyahu could get the attention of the whole world in this regard," he added. "The White House may be trying to create an atmosphere of complacency, but Republicans want to warn that Iran must not become a nuclear threshold state."