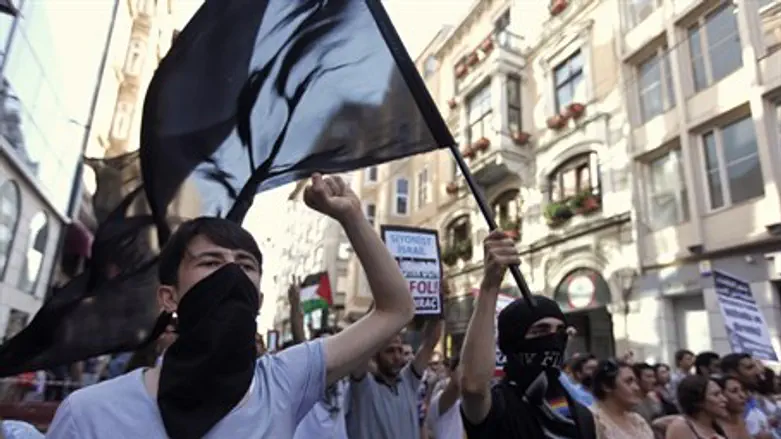 Protest in Turkey (illustration)
Reuters
Turkey has banned social media sites to cover up scandals surrounding President Recep Tayyip Erdogan and arms deals reports, but it has now gotten a symbolic slap on the wrist by the European Court of Human Rights (ECHR) for violating a singer's freedom of speech.
The Turkish Hurriyet Daily News reported on Tuesday that Turkey was fined 4,250 euros (just over $4,800) in a symbolic move, over Turkey's fining of a singer for a speech critical of the government during an authorized performance back in 2003, and denying his request for a trial.
The singer, Ferhat Tunc Yoslun, took part in a concert organized by the People's Democratic Party (DEHAP), during which he spoke out against the government's repression of freedoms and lack of democracy, and according to the Turkish courts also made comments supporting the Kurdish nationalist movements.
Turkey fined Yoslun 3,250 euros (over $3,600) and 1,000 euros for costs and expenses two months after the concert, claiming the authorization for the concert did not allow speeches. Yoslun requested a hearing against the decision, but the court dismissed his petition for a trial.
"Relying in particular on Article 6 (the right to a fair trial - ed.), Yoslun complained about the fact that no hearing had been held and alleged that this had had an impact on the rights of the defense," wrote ECHR in its ruling.
The statement added "relying on Article 10 (freedom of expression - ed.), he complained that he had been convicted for having addressed the public during his performance at an authorized concert." The ECHR found that Turkey violated both these articles stipulating a fair trial and freedom of expression in the case.