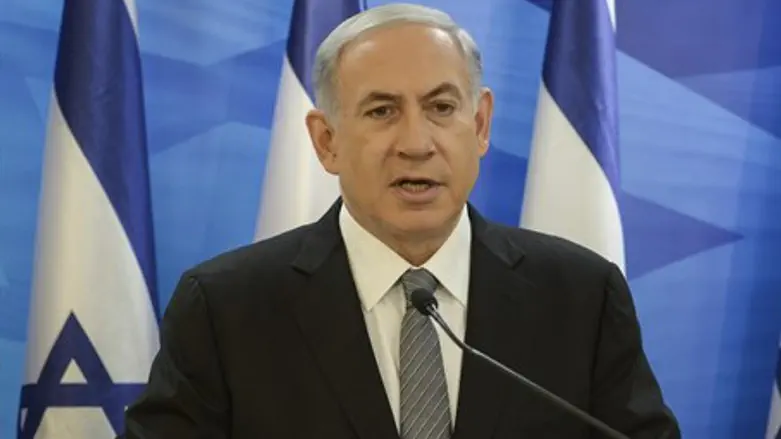 Binyamin Netanyahu
Amos Ben Gershom/GPO/Flash 90
Both Prime Minister Binyamin Netanyahu and US President Barack Obama have assured the Israeli and American public that Netanyahu's planned address to Congress will not harm the "unbreakable" US-Israel relationship - but a far-left NGO's new campaign Tuesday seeks to reignite sentiment against Netanyahu. 
The campaign, entitled, "I am a Jew, and Bibi does NOT [sic] speak for me," calls on American Jews to sign a petition against Netanyahu's Washington visit to Israel's Ambassador in the US, Ron Dermer. 
The language throughout the campaign is unabashedly hostile. 
"Sunday, Israeli Prime Minister Benjamin Netanyahu said he would be representing all Jews when he addresses Congress next month," the sign-up page explains. "He said he's coming to Washington 'not just as the prime minister of Israel but as a representative of the entire Jewish people."

"He certainly cannot claim any mandate to speak for Jews in the United States," the petition continued. 

"Add your name. Help us let his Ambassador in Washington, Ron Dermer, know that--as an American, as a Jew--Benjamin Netanyahu doesn't speak for you." 
Petitioners who sign are then greeted by this banner, as well as the recommendation to spread the message on Twitter using the #BibiDoesntSpeakForMe hashtag. 
Banner against Netanyahu, J-street website
Screenshot
It is unclear how many signatories have added their names to the petition, although the page boasts a list of "recent signatures." 
The campaign joins the efforts of leftists in Israel and abroad, whom have launched a barrage against Netanyahu over the speech, purporting it is meant for political benefit and harms Israel's security and relations with America; the American Reform movement has even claimed that it is splitting American Jewry. 
Reigniting tensions?
The White House has made clear that neither President Barack Obama nor Secretary of State John Kerry would meet Netanyahu while he is in Washington, explaining that American policy is not to meet foreign leaders on dates that are close to national elections in their countries.
But, as Arutz Sheva has noted before, former President Shimon Peres, when he was prime minister for Labor 19 years ago, went to visit then US President Bill Clinton a mere month before elections, a move which Netanyahu as then opposition head strongly criticized.
Despite the attacks against him, Netanyahu has reportedly been responsive to the criticism, and has been discussing several alternative options to the address.
Alternatives include downscaling the event from a live speech to a closed-door session of Congress or even canceling the event altogether and addressing the American Israel Public Affairs Committee (AIPAC) meeting in Washington instead.
While Netanyahu insisted on Monday evening that he is determined to address Congress next month, some of the unease between US and Israel over the address has been papered over - at least partially. 
"From the day Israel was established to this day, there have been essential differences between Israel and the U.S., and relations remained sound - this will be the case this time as well," Netanyahu said, explaining his 'determination' to explain Israel's position. 
Obama, too, adamantly stated Monday that - despite his own reservations over Netanyahu's visit - "the US-Israeli relationship" still "extends beyond parties," and urged that lawmakers not be entrenched in "partisan politics."