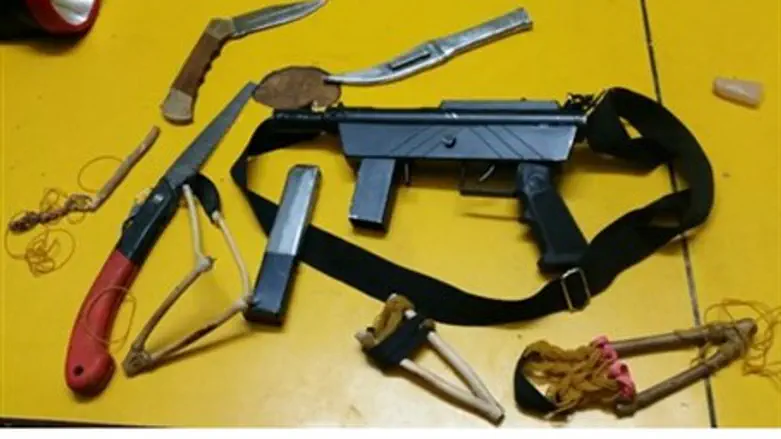 Weapons confiscated.
IDF Spokesman
Combat soldiers from the Home Front's Tavor Battalion seized a weapons stash Monday night in an operation in the village of Talfit in Samaria, near Eli.
The stash included an improvised weapon of the Carl Gustav M/45 variety, hidden inside a clothes cabinet. A matching magazine was also recovered, as well as a scabbard, a folding knife, a saw and two slingshots.
Two suspects were arrested as well, and several additional suspects were questioned.
A source in the Binyamin Brigade said that the search and arrest operations are being carried out at the initiative of the battalion, following several several security incidents that took place recently at Eli, next to the village."
The purpose of the activity, he explained, is "locating suspects who threaten the community, and weapons."
Lt. Col. Hai Rakah, Commander of the Tavor Battalion, said that the battalion "has been operating in the northern Binyamin region for about a month, on the roads in the daytime and at night – deep inside the villages as well. This time the combat soldiers scored a success when they located several weapons and arrested two suspects."
He added: "This is only one of many activities we undertake in the Eli region, in the face of hostile terrorist activity, and we will continue the mission of protecting the villages in our sector."