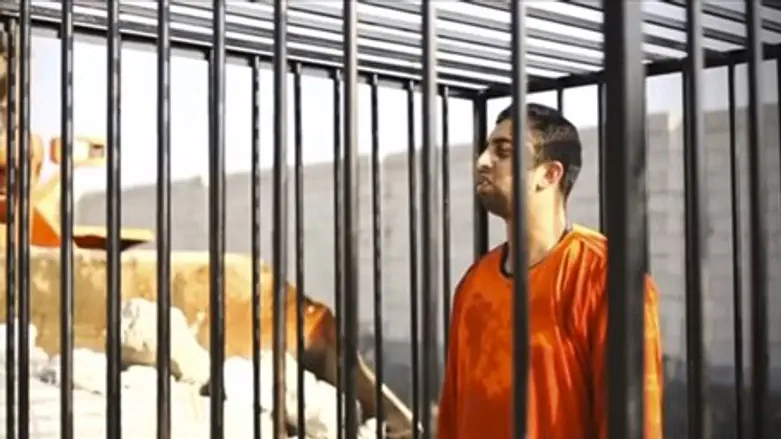 Still image from video of aMaaz al-Kassasbeh's brutal execution
Reuters
A Saudi cleric with the Islamic State (IS or ISIS) jihadist group has been removed from his post after objecting to the burning alive of a captured Jordanian pilot, a monitoring group said Friday.  
The Syrian Observatory for Human Rights said the cleric, known by the nom-de-guerre Abu Musab al-Jazrawi, raised objections during a Thursday meeting to the way pilot Maaz al-Kassasbeh was killed.
"He raised objections during the weekly meeting that takes place between clerics and IS leaders in the Aleppo area," said Observatory director Rami Abdel Rahman.
"He said the way Kassasbeh had been killed violated religious traditions."
Kassasbeh was captured by IS in December after his plane went down over Syria as he participated in the US-led coalition fighting the jihadist group.
A video purporting to show him being burned alive inside a cage emerged on Tuesday, though Jordanian state television said the execution was carried out weeks earlier.
Abdel Rahman said Jazrawi was removed from his post after the criticism, and could also face a religious tribunal and possible punishment.
ISIS and its supporters have sought to produce religious justifications for the horrific method by which they killed Kassasbeh, drawing on themes within Islamic texts that resonate with many; but some ordinary Muslims and Islamic scholars have fiercely criticized the execution.
The group emerged in Syria in 2013, and rules a self-proclaimed Islamic "caliphate" in territory under its control in Iraq and Syria.
It has become infamous for its brutal executions, including by beheading and stoning, as well as its mass-slaughter of religious and ethnic groups which refuse to convert to its brand of Islam.
AFP contributed to this report.