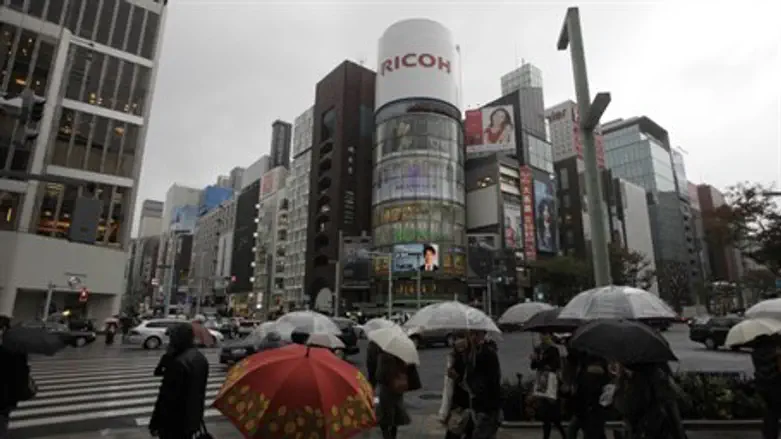 Downtown Tokyo (illustration)
Haim Shohat/Flash 90
Tokyo police officers will take part in the city's marathon this month among regular runners, the force said Wednesday, as Japan ramps up security after Islamist terrorists murdered two of its citizens.
With the country still reeling from the beheadings of journalist Kenji Goto and adventurer Haruna Yukawa by extremists from the self-styled Islamic State (ISIS) terrorist organization, officials have gone into overdrive to show they are protecting the populace.
A total of 64 officers - dubbed the "Running Police" - will run the entire 26-mile (42-kilometer) course on February 22 among the 36,000 professional and fun-runners expected to take part, a Tokyo police spokesman told AFP.
"This is part of our effort to tighten security after the (2013) bomb attack on the Boston Marathon as well as the recent attacks in countries such
as Australia and France," he said.
In the Boston Marathon of 2013, two Chechen Muslim terrorists set dual pressure cooker bombs at the finish line, murdering three people including an eight-year-old boy, and wounding 264 people.
Speaking about the precautions, the police spokesperson added "good runners will be selected from police ranks so that they can keep up with the pace of participants. They will wear a cap and vest showing the logos of the Metropolitan Police Department, so that they will also give participants reassurance and will help prevent crime."
Newspaper Tokyo Shimbun reported that the officers will also wear cameras on their heads.
Japanese Prime Minister Shinzo Abe ordered security be tightened at home and around Japanese overseas after the murders of its nationals by ISIS terrorists, who also released a video Tuesday purporting to show a Jordanian pilot being burnt alive.
Japan has never been the target of an Islamist attack although home-grown extremists have claimed lives, notably the religious cult Aum Shinrikyo that attacked the Tokyo subway with Sarin gas in 1995, murdering 13 people and injuring thousands more.