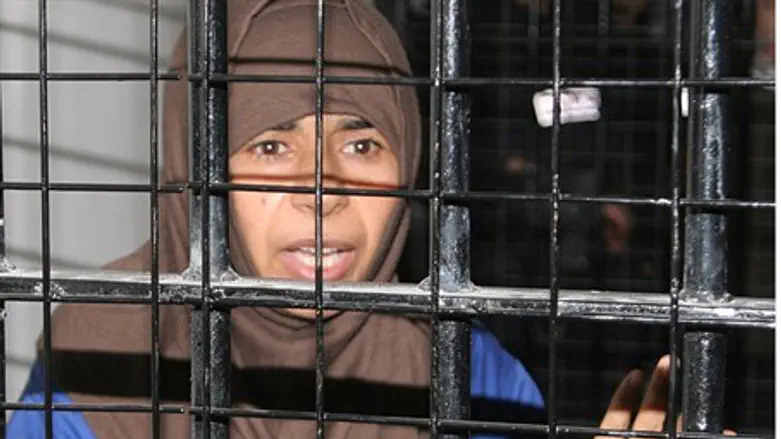 Sajida al-Rishawi, whose release ISIS had previous demanded, faces execution
Reuters
Jordan executed two jihadist prisoners at dawn on Wednesday, after vowing a harsh response to the Islamic State (ISIS) group's murder of a Jordanian pilot.
Would-be Iraqi female suicide bomber Sajida al-Rishawi and Iraqi Al-Qaeda member Ziad al-Karboli were executed at 4:00 a.m. local time, government spokesman Mohammad al-Momani told AFP.
On Tuesday evening,  ISIS released a video purportedly showing the burning alive of Jordanian pilot Maaz al-Kassasbeh, who was captured on December 24 after his F-16 jet crashed while on a mission over northern Syria as part of the U.S.-led coalition campaign against the jihadists.
The highly produced, 22-minute video shows footage of Kassasbeh sitting at a table discussing coalition operations against ISIS, with flags from the various Western and Arab countries in the alliance projected in the background.
In response to the brutal killing, Jordan said it would execute five terrorist prisoners in revenge.
On Tuesday night, Jordan promised an "earth-shattering" response to the burning alive of the pilot.
"The death sentence will be carried out on a group of jihadists, starting with Rishawi, as well as Iraqi Al-Qaeda operative Ziad Karbuli and others who attacked Jordan's interests," a Jordanian official, speaking on condition of anonymity, had told AFP.
King Abdullah II, who was in Washington when news of the pilot's murder broke, described ISIS as a "cowardly" organization, and added that its killing of al-Kassasbeh will only strengthen Jordanians.
"We have received with all sorrow, grief and anger, the news of the martyrdom of the brave pilot Maaz al-Kassasbeh, may Allah bless his soul, at the hand of the terrorist and cowardly Daesh organization, this criminal, stray gang that has nothing to do with our true religion," the King said in a statement quoted by the Jordan Times and in which he used an Arabic acronym for ISIS.
"At this difficult time, it is the duty of all citizens to unify their ranks and show the true character of the Jordanian people when they face hardships and plights, which will only strengthen us and reinforce our unity," added King Abdullah, who is currently on a visit to the United States which he said he would cut short.
The King met with U.S. President Barack Obama on Tuesday at the White House. The meeting was not on the King's original itinerary but was hastily arranged after the ISIS video emerged.
Obama had decried the "cowardice and depravity" of the Islamic State, saying the brutal killing would only strengthen international resolve to destroy the group.
"The president and King Abdullah reaffirmed that the vile murder of this brave Jordanian will only serve to steel the international community's resolve to destroy [ISIS]," a National Security Council spokesman said after the pair met, according to AFP.