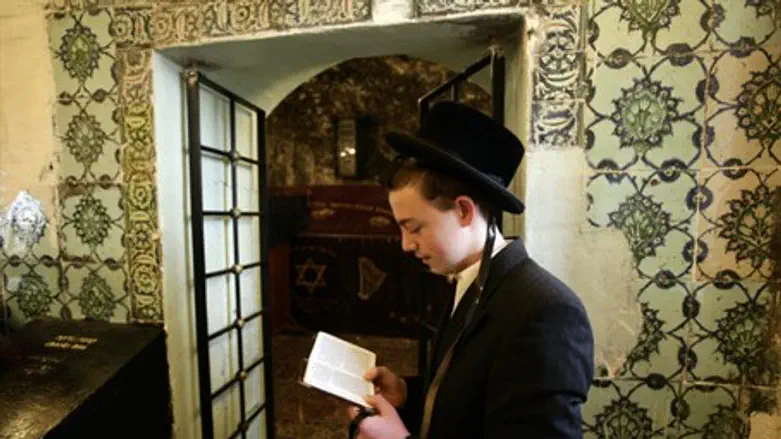 Praying at King David's Tomb (illustration)
Flash 90
Winners have been announced in the Jewish Book Council's 2014 National Jewish Book Awards - one of the prime winners of accolades in the contest was the Koren Ani Tefilla Siddur, a Hebrew and English weekday prayer book.
The siddur features a translation by the former chief rabbi of the UK and Yeshiva University (YU) Professor of Jewish Thought, Rabbi Lord Jonathan Sacks, as well as commentary by Rabbi Dr. Jay Goldmintz, an adjunct professor at YU's Azrieli Graduate School of Jewish Education and Administration.
Rabbi Goldmintz, a renowned Jewish educator and scholar, conceived the idea for the siddur which is designed to stimulate an intellectual, visual, and emotional connection to the prayers.
The commentary consists of four layers: Biur Tefilla aimed at clarifying the prayers, Iyun Tefilla examining them in depth, Hilkhot Tefilla discussing the Jewish laws regarding prayer, and Ani Tefilla aimed to enhance the personal connection to the prayers.
There are also engaging layouts, inspiring narratives, and a collection of "frequently asked questions" to deepen the prayer experience.
Theh siddur is part of the Koren Magerman Educational Siddur Series, published in cooperation with Yeshiva University.
"Our vision for the Ani Tefila siddur and the entire Koren Magerman Educational Siddur Series is to ensure that tefila (prayer - ed.) is more than an exercise in reading but a meaning-making experience that advances a student's relationship with G-d and develops a more robust and profound understanding of his or her Creator, world and himself or herself," said Dr. Scott Goldberg, vice provost of YU and chairman of the Koren Educational Editorial Board .
He added "this award recognizes Ani Tefila as a must-have tool to enable and support tefila for the individual and tefila education for our schools and communities. Yeshiva University is proud to partner with Koren to produce this important series of siddurim."
Dr. Daniel Rose, Koren's director of educational projects, added that "these educational siddurim are inspiring and educating students of all ages, including a broad spectrum of adults, toward a more meaningful spiritual life and a more personal connection to G-d."
"We are all honored that the Jewish Book Council has recognized the Ani Tefilla as an enriching tool for North American Jewry," Rose concluded.
The National Jewish Book Award program is the most prestigious and the longest running North American awards program of its kind.