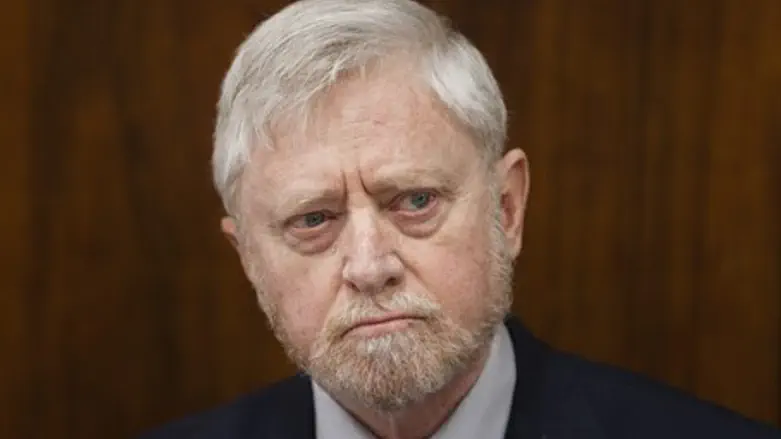 State Comptroller Yoseph Shapira
Flash 90
State Comptroller Yosef Shapira on Sunday put his foot down on ongoing leaks of confidential state documents to the media – using as an example Channel Ten reporter Raviv Drucker, who earlier Sunday published details of a draft report Shapira is preparing on trips Prime Minister Binyamin Netanyahu and his family took over several years while he was Finance Minister in the administration of former Prime Minister Ariel Sharon, over a decade ago.
Shapira said that he saw Drucker's publishing of the document "in a serious light. Publishing drafts and working documents before they are completed is an unworthy act, and is actually a crime."
According to Drucker, the document, as published, says that several trips Netanyahu and his family took during the period he was Finance Minister were funded by "outside elements," which are not specified in the document. In some cases, certain expenses were also paid by the State, and the document also discusses whether the Netanyahus pocketed funds that were meant to pay for their trips, since the "outside elements" had already paid those expenses.
The draft document on what has been called the "Bibitours" matter in the media was prepared over two and a half years ago, and was never released – nor was it forwarded to the Prime Minister for review, as is customary with such investigations, with the subject being afforded an opportunity to respond to the matter.
The document does not accuse the Prime Minister of any crimes, but rather criticizes him for failing to follow procedure in filing expenses. However, as the document is a draft, it is still a work in progress, and legal experts said that since it had not been filed two and a half years after being prepared, it was possible that Shapira was planning a major revamping of the report. In any event, the Comptroller said, Drucker had no business releasing the document.
In a statement, the Likud said that "once again it appears that the Left will stop at nothing to unseat Prime Minister Netanyahu, and that includes using illegal means to do so. The draft published by Drucker does not resemble previous drafts the Prime Minister has seen, and it does not include comments by the Prime Minister and others on the matter. The Prime Minister has rejected all the allegations in the report, and in any event it is only the final document that will be released by the Comptroller. It is clear that Raviv Drucker is involved in criminal activity, and the penalty for such actions is prison."