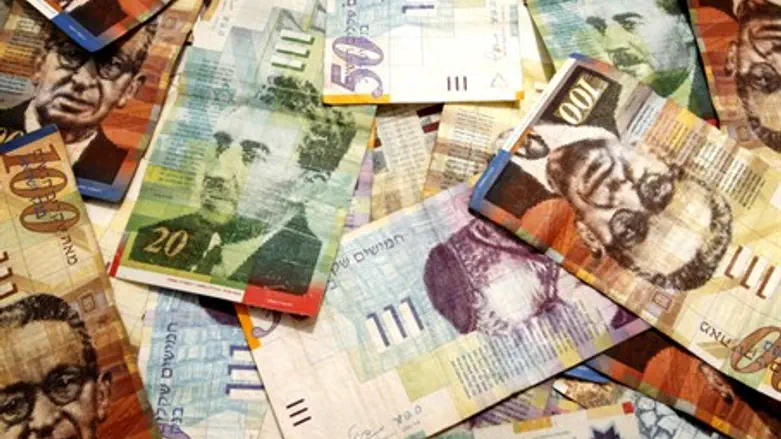 Money (illustrative)
Flash 90
The war between Israel and Gaza drove the Palestinian economy of Gaza and Judea and Samaria into its first contraction since 2006, the International Monetary Fund (IMF) said Thursday, according to the AFP news agency.
While the Palestinian Authority-run areas of Judea and Samaria managed a 4.5 percent expansion last year, Gaza's economic activity declined by about 15 percent, the IMF said, linking it to the bombing and shelling of the Gaza enclave and slow progress on rebuilding.
Overall, the contraction amounted to about one percent of gross domestic product.
"Economic activity contracted in 2014, following the war in Gaza in the summer and mounting political tensions in the West Bank and East Jerusalem," the IMF said.
After a mission to assess the state of the economy, IMF said a strong recovery this year was also in doubt due to Israel's continued refusal to hand over some $127 million worth of clearance revenues due to the Palestinian Authority (PA).
Israel froze the transfer of the tax funds to the PA earlier this month, in response to the PA's official request to join the International Criminal Court (ICC).
"These represent about two-thirds of net revenues and are essential to the PA's budget and to the Palestinian economy," it said, according to AFP.
"Reduced wage payments and other public spending cuts necessitated by the suspension of clearance revenues in the presence of financing constraints will likely cause a sharp reduction in private consumption and investment."
Moreover, it added, reconstruction in Gaza is moving slowly, partly due to a lack of real reconciliation among factions in Palestinian politics, and partly due to donors not following through on their pledges to support rebuilding.
"Real GDP in 2015 is therefore set to rise only modestly, with a pickup in Gaza from a low base and a drop of nearly two percent in the West Bank, although the sharp fall in oil prices provides some relief to energy consumers," said the IMF.
Israel's withholding the revenues will force the government to cut back spending and investment, keeping the medium-term growth picture only modest, the IMF said.
The IMF praised the PA for keeping its fiscal deficit under control, but said that even assuming that Israel releases the funds, a large fiscal shortfall is expected.
"In this volatile environment, safeguarding financial stability will remain a priority..... Strong efforts by the PA can only go so far to contain the crisis for a few months. The situation could become untenable, with a growing risk of social unrest and strikes that could lead to political instability."
"These serious risks could be mitigated if Israel quickly resumed transfers of clearance revenue and donors front-loaded their aid."
AFP contributed to this report.