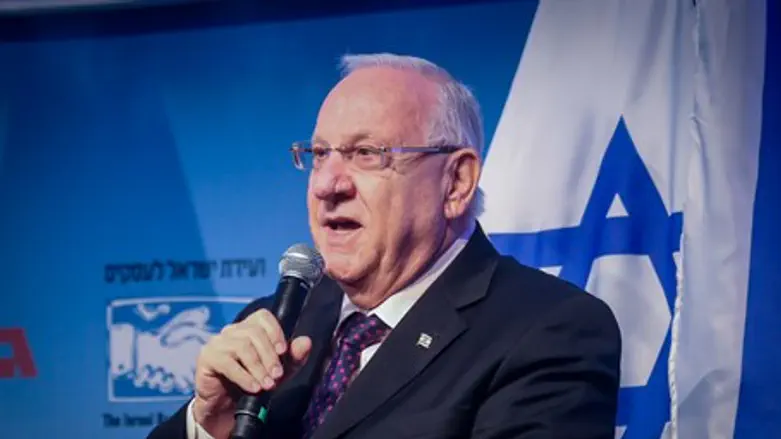 President Reuven Rivlin
Flash 90
In the final hours of his curtailed trip to the United States, President Reuven Rivlin toured around New York City, visiting the 9-11 memorial site and meeting with former US President Bill Clinton and New York City Mayor Bill de Blasio. 
At Ground Zero, the site of the World Trade Towers, Rivlin laid a wreath on the newly built memorial. 
"Once to stand at this place, was to stand in the shadows of two magnificent towers, examples of modern development and human achievement.  But now, we stand in the shadow of the valley of death."
Rivlin, echoing his speech to the United Nations earlier Wednesday in honor of International Holocaust Remembrance Day, called on the international community to unite in the fight against terrorism. 
"We stand here, united as those who choose life, freedom, and equality, and understand the horror of what occurred here, and the enormity of the task before us.  We will continue to fight terror.  We will continue to fight fundamentalism. This is an obligation for the whole world, for its leaders, those who believe in peace, and all citizens of the world." 
"Terrorism is not an Israeli or American problem.  Extremism is not a destined decree.  The free world, democracy, the value of life, will endure, and stand strong in the face of this threat.  I take from this place not anger, but hope.  I take from this place, not hatred, but a desire for peace. May the memories of those who died here be a blessing."
Immediately after, Rivlin met with former US President Bill Clinton. The pair discussed at length Rivlin's visit as well political issues facing both Israel and the United States. 
Earlier Wednesday, following his address at the UN, Rivlin inaugurated a Yad Vashem exhibition at the UN building; met with New York Mayor Bill de Blasio and the New York Chief of Police; as well as attended a meeting hosted by Israel's Ambassador to the UN, Ron Prosor. 
Rivlin was also the guest of honor at a special event for the Hispanic community of New York hosted by Bronx Borough President Ruben Diaz Jr and Consul General of Israel in New York, Ambassador Ido Aharoni. 
Several hundreds community leaders attended the event. 
The President first thanked Diaz for the warm welcome and then began to discuss the importance of cultural diversity in Israel. 
"Israeli society is based on diversity - and is made up of a wide range of communities; Jews, Arabs, Muslims, Christians, Ultra-Orthodox, Ethiopians, and hundreds and thousands of immigrants from every possible country. I believe in fact, we owe our status as the 'Start Up Nation' to this diversity."
Rivlin then discussed recent security events and tried to lay to rest misrepresentations of Israel. 
"Often when people hear or read about Israel, they think we are at war with Islam. We are not, and never have been, at war with Islam.  We, like many other countries today, are at war with extremists." 
"I believe that Jews and Arabs are not doomed to live together, but we are destined to live together, and that the greatest challenge is the establishment of trust, mutual respect and understanding between Israel's Jewish and Arab, and between Israelis and Palestinians – a challenge which still lies before us."
Rivlin concluded his speech by drawing parallels between the experiences of the Jewish/Israeli community and the Hispanic community. 
"The strengthening of ties between our communities is of great mutual benefit," he added. 
The President is due to arrive back in Israel on Thursday. He cut his trip short following Hezbollah's attack against the IDF in the north of Israel, stating his place (as President) was with his people in Israel.