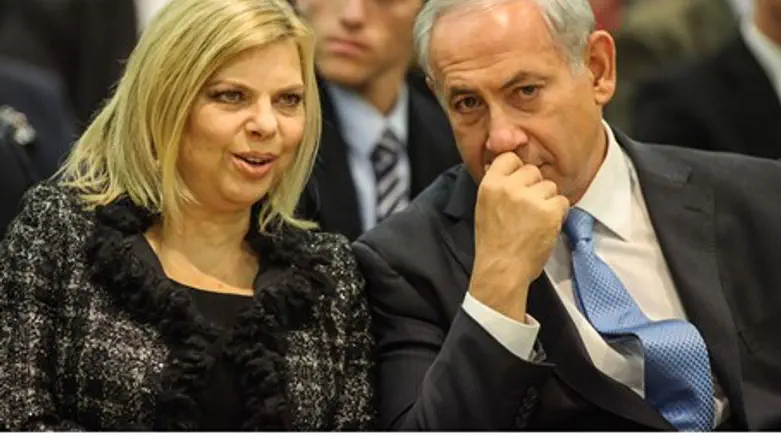 Binyamin and Sarah Netanyahu
Flash 90
Prime Minister Binyamin Netanyahu on Monday for the first time responded to the statements of former housekeepers published in the media the day before, in which sharp accusations were made against his wife Sarah.
The statements were revealed as part of the lawsuit of Manny Naftali, a former housekeeper of the Prime Minister's Residence in Jerusalem. The case is to be heard after the March 17 elections but the affidavits were released now, and include former employees charging Sarah with verbal abuse.
Writing on his Facebook page, Netanyahu stated "the media onslaught against my wife Sarah is yet another low for leading sources in the Israeli media, who don't reject any means to harm me and my political path."
"The campaign 'anyone but Bibi (Netanyahu)' turned into the campaign 'anyone but Sarah' - anything to slander, denounce, attack and do anything to bring down the Likud government led by me, and to pave the path of the left," said Netanyahu.
He concluded by saying "so here, I'll write this as clear as possible: whoever wants to attack my policy in a topical manner - is welcome. Leave my family alone."
The statements released on Sunday included testimony from two housekeepers, including Guy Eliyahu, who worked as a maintenance man in the home and has filed a separate lawsuit against the Netanyahus aside from Naftali's suit.
Eliyahu alleged in his affidavit that Sarah would shout at Naftali and humiliate him, and claims that he was the subject of similar abuse.
He claimed that one time he was called back to the Prime Minister's Residence after midnight in order to heat up a bowl of soup for Sarah, and "I was scolded by her that I had to come back to the house whenever she wants to eat."
Eliyahu further claimed that she would have mood swings which "led to severe tantrums, especially after Mrs. Netanyahu drank significant amounts of alcohol."
Emanuel Sela, who worked in the Prime Minister's Residence from August to December 2013, also testified against Sarah, charging her of "shouting, tongue-lashing and constant pressure, including conflicting instructions from the prime minister and his wife."
Surprisingly Netanyahu's call to "leave my family alone" was echoed by far-left Meretz chairperson Zehava Galon, who last week slammed "the intifada against Sarah Netanyahu."
"I really do not like the intifada against the wife of the Prime Minister. It has become a national sport to criticize Sarah," Galon said at an event in Haifa. "I do not support her, I don't support him, and I want them removed from power, but I'm not comfortable with the criticism. The criticism should be leveled at the Prime Minister, not his wife."