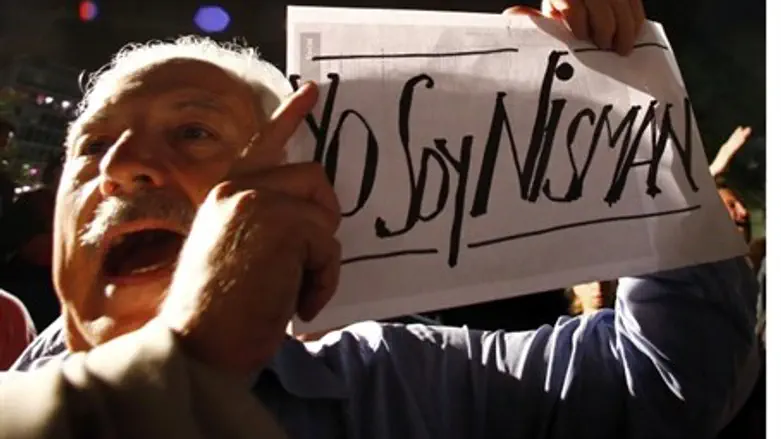 Yo Soy Nisman -- I am Nisman
Reuters
The official Argentine Jewish community is planning to boycott the country's official Holocaust commemoration. The state ceremonies will be held on  Tuesday, International Holocaust Day – and the Jews of Argentina will hold their own separate memorial ceremony the same day.
The Jews are protesting the suspicious death – and subsequent investigation thereof – of prosecutor Alberto Nisman, as well as ties between Argentina and Iran.
The official memorial ceremony happens to mark two years since Argentina and Iran signed an agreement to establish a "truth commission" into the bombing of the AMIA Jewish Community Center back in 1994 that left 85 dead and hundreds wounded.
It is widely believed that Iran was actually behind the bombing, and that top Argentinean government officials attempted to stymie investigations to this effect – so as not to stymie negotiations for a favorable oil deal with Iran.
Special Prosecutor Nisman, who was found shot to death a week ago, was actually investigating this very issue. He was killed just a day before he was to present a congressional committee with detailed accusations against top government officials regarding the alleged investigation cover-up. His death was initially reported as a suicide, but evidence is mounting that it was actually murder. 
Explaining the planned boycott, Waldo Wolff, a leader of one of the boycotting Jewish organizations, said, "The charges [regarding Argentinean-Iranian cooperation] are so gruesome and extend to so many areas of government that it would be an insult to the memory of our victims of the Shoah to attend." Jewish groups that announced their intention not to send representatives to the official ceremony include AMIA, the Daia (Argentina's affiliate to the World Jewish Congress), the Holocaust Museum of Buenos Aires and others. 
 "I am horrified by the charge that someone [Foreign Minister, Héctor Timerman] who is both an Argentinean and a Jew is suspected of plotting to cast darkness on an investigation undertaken in his own country to solve the AMIA bombing," said Diana Wang, head of the Children of the Shoah association. Wang arrived in Argentina in 1947 at just two years of age with her parents who had survived the Holocaust.
Argentina's government has worked strenuously over the years to clear the country's reputation as a post-war safe haven for some of the most important Nazi criminals, such as Adolf Eichmann and Auschwitz doctor Josef Mengele.
The date of the commemorations marks the anniversary of the Soviet Union's liberation in 1945 of Auschwitz-Birkenau, the largest Nazi death camp. 
The date was designated by the United Nations in 2005 to commemorate the genocide "that resulted in the murder of one-third of the Jewish people, along with countless members of other minorities," by the Nazis and their many collaborators throughout Europe.