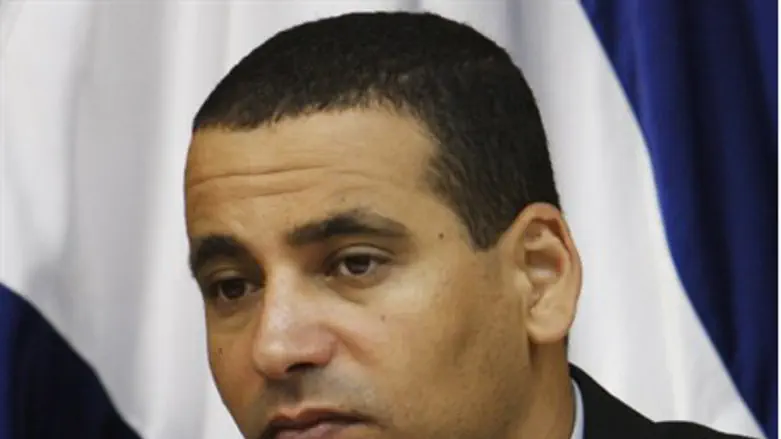 MK Yosel Hasson
Israel news photo: Flash 90
Yoel Hasson, a former Knesset member for Kadima between 2006-2012, is expected to be placed in the 16th spot of the united Labor-Hatnua list. 
That spot is reserved for a Hatnua candidate. It was previously thought to be filled by economist Manual Trajtenberg who has since been appointed to the 11th spot on the list. 
Hasson left Kadima in 2013 to join Hatnua under former Kadima Chairwoman and current Hatnua Chairwoman Tzipi Livni. He placed seventh on the list, but did not make it into the Knesset, as Hatnua only won six seats in the 2013 elections. 
The former MK is considered close to Livni - now number 2 on the Labor-Hatnua list - having followed her both to Kadima and to Hatnua. He was also a supporter of Prime Minister Ariel Sharon, who formed Kadima in 2005. 
Hasson received his BA in government and public policy from IDC Herzliya. He joined the right-wing Betar movement and was head of its national youth leadership between 1998 and 2001. 
From 2001-2003 he served as the chairman of the Council of Israeli Youth movements. He also served as an advisor to Sharon from 2001-2005. 
He became chairman of the Likud youth in 2004, but left that position and the Likud party in 2005 to join Sharon in Kadima. 
Hasson was placed 29th on Kadima's Knesset list for the 2006 elections, winning the last spot of members elected into the Knesset. 
While an MK, Hasson served as chairman of the Lobby for the Advancement of Young People in Israel and the Lobby for the Protection of Animals. He was also named chairman of the coalition, and Kadima's parliamentary Group Chairman.
Since his retirement from politics, Hasson has established a consulting company called "Ethics" which provides business entities help in how to deal with the state comptroller.