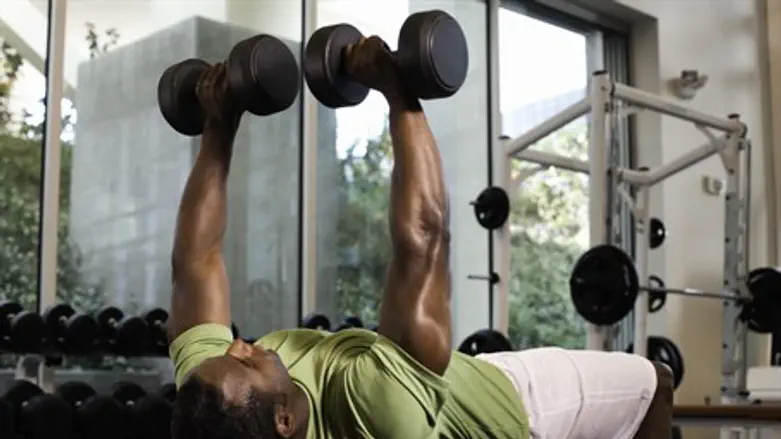 Many Jewish sources promote maintaining physical fitness (illustrative)
Thinkstock
Rabbis have long pushed for it: Physical health must be tended to parallel with spiritual health. As of last week, these two ideals can be nurtured almost simultaneously – in Vienna, Austria. The old mikveh on the bottom floor of the Ohel Moshe Synagogue was renovated over the last several months, and a fitness training room-gym was built in rooms alongside it.
The mikveh-gym, sponsored by donations of local community members, includes two spacious mikvaot, walking machines, bench-press lifts, weights, and the like.
The city of Beitar Illit in western Gush Etzion has also announced plans for a gym alongside a men's mivkeh.
According to Maimonides in his Guide to the Perplexed, "Those who do acts of exercising their body for the purpose of good health, such as playing ball, wrestling, hand-stretching and holding one's breath… are engaged in frivolous actions according to the ignorant; but they are not frivolous according to the wise."
Rabbi Avraham Yitzchak HaCohen Kook, first Chief Rabbi of the Holy Land until his death in 1935, wrote in very flowering terms regarding "the exercise in which the Jewish youth engage in the Land of Israel … This holy service elevates G-d's Presence, just as it is elevated via the songs and praises of King David in his Psalms."
Rabbi Yisrael Salanter, founder of the Mussar (Jewish ethics) Movement, was known to exercise "religiously." This was attested to by his doctor, who said that Rabbi Salanter strictly followed the regimen he advised, including playing ball every day for a certain amount of time – even when he was already 60 years old.
For those who wish to avail themselves of either the spiritual or physical health services in Vienna, monthly use of the Ohel Moshe mikveh costs 20 Euros, and for the gym – another 29.
The Jewish Community in Vienna was several ravaged by the Holocaust, losing more than a third of its 185,000 members. It is now on the rebound, numbering 12,000 Jews, of whom some 7,000 members are active participants.