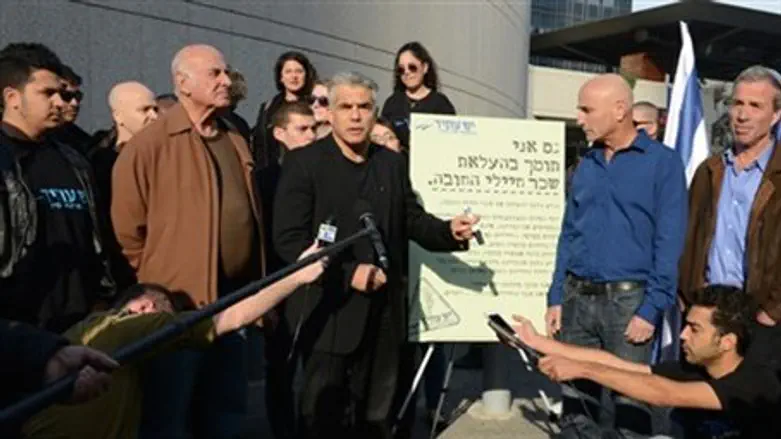 Lapid Outside Kirya
Elad Guttman
Yesh Atid Chairman Yair Lapid and several of his party's members took to the streets Sunday morning with a new campaign declaration. 
Standing at the entrance to the Kirya (a major IDF base) in Tel Aviv, Lapid promised that raising the salaries of IDF soldiers would be one of his requirements post-elections and would be the basis for any of his future coalition negotiations. 
With Lapid were fellow Yesh Atid MKs Yaakov Peri, Ofer Shelah, and Elazar Stern. 
Lapid stated that, "it can't be that soldiers, the fighters that battled during Operation Protective Edge, cannot make ends meet every month." 
"We will fight and we will raise the amount of soldiers' salaries just as we raise the minimum wage. It is possible and it will happen, just as we ensured a billion shekels be transferred to Holocaust survivors and and just as we funded day camps for children on summer vacation." 
Peri, the former Minister of Science, said he does not accept the phenomenon of soldiers returning home to live with their parents because they cannot afford to live on their own. 
"As someone who served in the defense system most of my life I know well the pressures faced by soldiers, and we (the state) should not add economic pressure to this." 
Shelah added that in the last five years salaries for those with permanent positions in the defense establishment rose by 20% while the salaries for regular drafted soldiers did not rise at all. 
Stern added that "the boys and girl that  are serving in the army comprise 60% of the population. [Raising their salaries] is another expression of 'sharing the burden.'"
Yesh Atid has created an outline of how to raise soldiers' salaries, which closely mimics the three-stage plan to raise Israel's minimum wage.
According to the party, MK Shelah and MK Stern have formulated a comprehensive budgeting plan which will provide a necessary pay raise to soldiers while still fitting in with the financial resources available. 
While standing outside the Kirya, Lapid, Peri, Shelah and Stern each signed a petition calling for soldiers wages to be increased. Interested passersby also took the opportunity to sign. 
In addition, dozens of young Yesh Atid members presented a future paycheck with the amount hoped for following the pay raise's implementation.