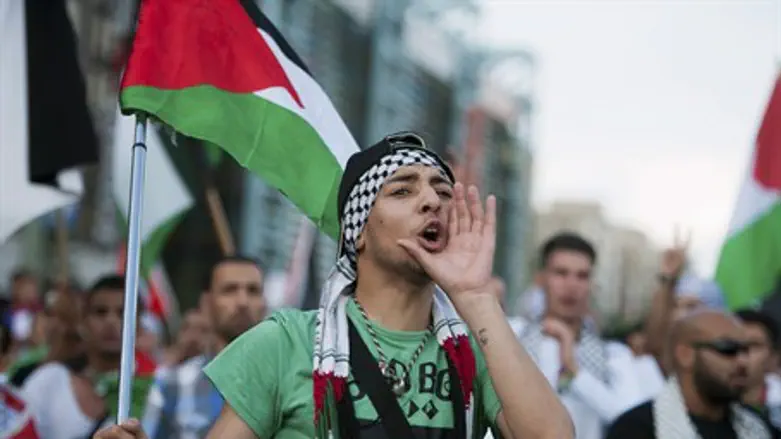 Last summer saw global anti-Semitism levels rise to alarming heights
Reuters
The United Nations General Assembly is set to hold its first-ever meeting to discuss rising global anti-Semitism Thursday.
37 countries including Israel, The United States of America, Canada, Australia, and all members of the EU sent a letter to Mr. Sam Kutesa, President of the General Assembly to call for a special session to address the global outbreak of anti-Semitism. 
The meeting was already planned prior to the recent deadly Islamist terror attacks in France, one of which saw four Jews murdered by an ISIS terrorist at a kosher supermarket in Paris.
That attack was only the latest in a steadily-growing list of murderous terrorist assaults against Jews in Europe - particularly in France, home to the continent's largest Jewish and Muslim populations.
It also brought to the fore growing fears in Europe over an alarming rise in anti-Semitism in general.
Last summer saw record levels of anti-Semitism recorded in most western European countries, as anti-Israel protests over Operation Protective Edge quickly became used as platforms for anti-Semites. Incidents recorded over the summer ranged from physical assaults and arson, to incitement, vandalism, and verbal and online abuse.
Although anti-Semitism levels have ebbed somewhat since then, incidents continue to be recorded in Europe and elsewhere. 
Noted public French philosopher and author, Mr. Bernard Henri Lévy, will deliver a keynote address at the one-day informal meeting, which is jointly hosted by the American, Canadian and the EU Missions to the UN
Representatives from several countries will also address the GA.
"It says a lot that so many countries have partnered with Israel to raise this issue of anti-Semitism to the top of the UN's agenda," Israel's Ambassador to the United Nations, Ron Prosor, stated. "We have a great deal of work to do to move this issue from the headlines to the history books."
The event is expected to be livestreamed later today (Thursday).