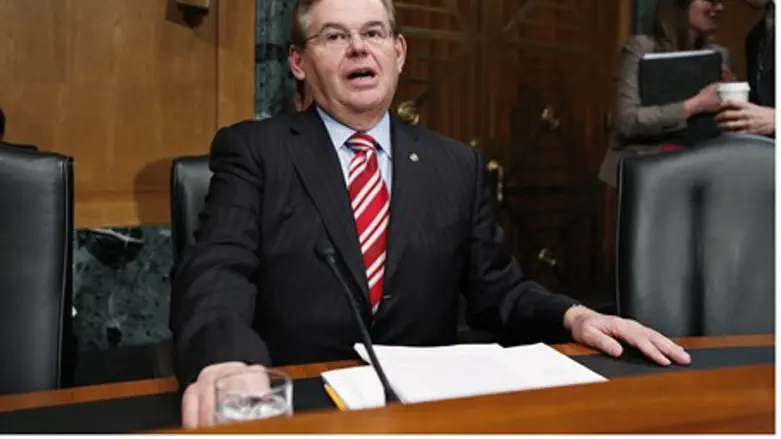 U.S. Senator Robert Menendez
Reuters
Democratic Senator Robert Menendez called for new sanctions on Iran on Wednesday morning, just hours after President Barack Obama used his State of the Union address to argue against them, the NJ.com news website reported.
Speaking at a hearing of the Senate Foreign Relations Committee, Menendez pushed for additional penalties against the Islamic Republic if the United States and its allies cannot reach an agreement with Iran that rolls back its nuclear program.
Menendez, a longtime proponent of additional sanctions against Iran, this week introduced legislation that would mandate new sanctions only if a nuclear deal is not reached by March, a timetable that has already been extended past the original November deadline.
The bill co-authored by Menendez and Republican Senator Mark Kirk is a toned down version of a previous bill they authored and which had gained momentum in Congress, but Obama lobbied hard against it and threatened to veto it.
"Iran needs to know that there will be consequences for failure - and that consequence will be additional sanctions," Menendez said as Wednesday morning's hearing began.
"Up until now, Iran has not been motivated to make tough decisions. I hope that there will be an agreement in March, but I also believe we need to make clear that there are consequences to no-deal - and that means being prepared to act.''
Obama, a fellow Democrat, threatened in Tuesday's State of the Union address to veto any new sanctions.
"New sanctions passed by this Congress, at this moment in time, will all but guarantee that diplomacy fails — alienating America from its allies; making it harder to maintain sanctions; and ensuring that Iran starts up its nuclear program again," Obama said. "It doesn't make sense. And that's why I will veto any new sanctions bill that threatens to undo this progress. The American people expect us only to go to war as a last resort, and I intend to stay true to that wisdom."
Obama also said in the speech that diplomacy was working regarding Iran.
"For the first time in a decade, we've halted the progress of its nuclear program and reduced its stockpile of nuclear material,'' the president said. "Between now and this spring, we have a chance to negotiate a comprehensive agreement that prevents a nuclear-armed Iran, secures America and our allies — including Israel, while avoiding yet another Middle East conflict. There are no guarantees that negotiations will succeed, and I keep all options on the table to prevent a nuclear Iran.''
Menendez, who praised other elements of the State of the Union address, disagreed with Obama on Iran, saying the Islamic Republic has been stalling for time while continuing to develop its nuclear program.
"Iran is clearly taking steps that can only be interpreted as provocative," Menendez said, according to NJ.com.
"It seems that we're allowing Iran to shuffle the deck and deal the cards in this negotiation and that we're playing dealer's choice. Frankly, that's not good enough. We need to get into the game," he added.
The State of the Union speech marked the second time in less than a week that Obama declared he would veto new sanctions on Iran. Last Friday, during a meeting in Washington with British Prime Minister David Cameron, Obama declared, "I will veto a bill that comes to my desk."