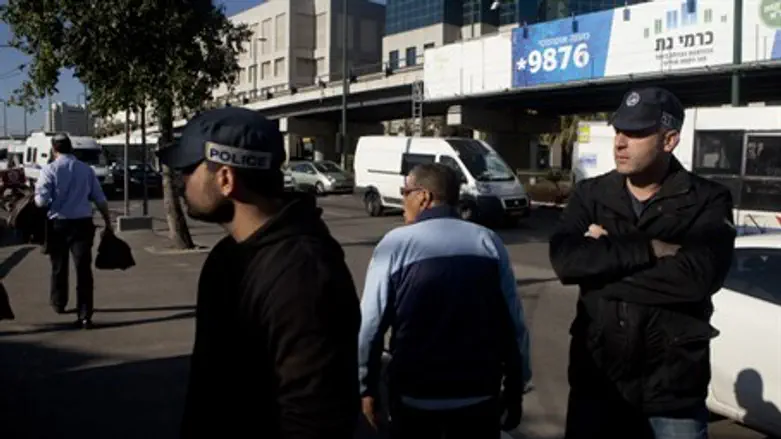 Site of the Tel Aviv stabbing
Flash 90
The stabbing attack on a number 40 line bus in the heart of Tel Aviv on Wednesday morning has left at least 12 wounded, three of them seriously, but one man was saved from the bloody stabbing due to it being Rosh Chodesh - the Jewish new month.
The month of Sh'vat on the Jewish calendar began on Wednesday, and along with it Jews inserted additional prayers to the morning service. That fact potentially saved Shmuel, a hareidi resident of Tel Aviv who works in the area of the attack and arrived just moments after the terrorist was subdued.
"Every morning I pass the intersection in the area at 7:30 (a.m.)," he told Arutz Sheva. "This morning I was a few minutes late due to the relatively long Rosh Chodesh prayers."
Shmuel said "when I hear that passersby who came across the path of the knife-wielding terrorist were stabbed and collapsed, I get shivers from the knowledge that I was supposed to be there, (but) I wasn't at the incident itself."
"I arrived at the intersection minutes afterwards," he said. "When I arrived there I saw the wounded receiving initial medical treatment from the rescue forces, and the police started to close the area."
The intersection where the attack occurred, on Begin Road near Beit Maariv, is a very central location in the heart of Tel Aviv according to Shmuel, who said hundreds of people are at the site every day at that hour of the morning.
"This is the center of the city. The nerve center of Tel Aviv," he stressed.
However he added that unfortunately no one was really surprised by the attack, as terrorism has reached Tel Aviv on frequent occasions during such times of security turbulence.
Shmuel concluded "there isn't really anything to be done. This is the reality of our lives. This is the tense routine and not only in Tel Aviv. Also in the south, also in Jerusalem. No one is really surprised here with the background security tension in which we are living."