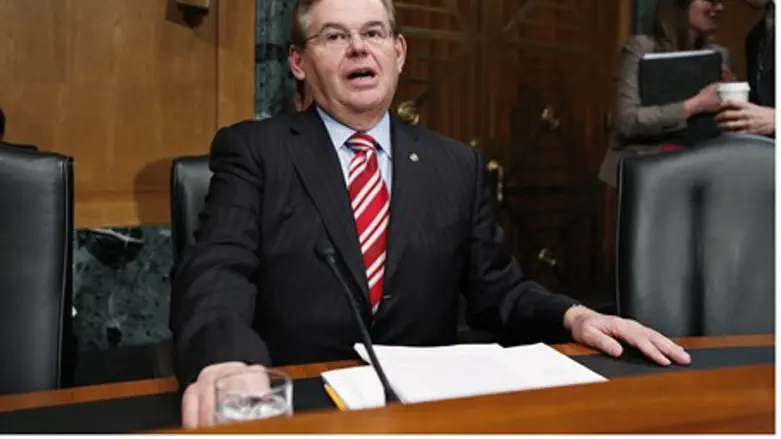 U.S. Senator Robert Menendez
Reuters
Supporters of Iran sanctions in the American Senate have unveiled a toned-down bill aimed at gaining enough votes to override a presidential veto, AFP reported on Sunday.
According to the report, on Thursday the Senate banking committee will discuss and vote on the re-jigged bill proposed by Republican Mark Kirk and Democrat Robert Menendez, two senators who have sponsored previous sanctions bills.
Their long-awaited bill was made public Friday but has not been formally introduced in the Senate.
The revised bill would gradually impose sanctions against Iran if, by July 1, no final deal is reached in the talks under way between Tehran and the so-called P5+1 group -- the United States, Britain, China, France, Germany and Russia.
July 1 is the current deadline for the international negotiations, at a stalemate after two previous deadlines passed without a final agreement.
The calendar proposed by Kirk and Menendez would kick in a few days later, and escalate over several months.
If there were no deal by July 6, sanctions that had been frozen as part of an interim agreement would be reinstated. They would be followed on August 3 by new sanctions on the petroleum industry, and on September 7 by new restrictions on countries that currently import Iranian oil.
On October 5, more Iranian officials would be targeted by travel and financial sanctions, and on November 2, new sanctions would kick in against foreign financial institutions engaged in transactions with Iran's Central Bank or other sanctioned banks.
Finally, on December 7, if there were still no deal, Iran's automobile, construction, engineering, and mining sectors would be targeted.
If a final agreement with Iran were reached, the president must inform Congress, at which point the sanctions could be waived after Congress has been in session for 30 continuous days -- that would likely be in September or October at the earliest, given the summer recess.
In December 2013, the two lawmakers had proposed a much more stringent law, which set specific and very strict criteria for any final agreement with Iran -- including that Tehran completely dismantle illicit aspects of their nuclear program and stop its support for terrorism.
The bill was gaining momentum in Congress, but President Barack Obama lobbied hard against it and threatened to veto it. Last Friday, during a press conference with visiting British Prime Minister David Cameron, Obama reiterated that he would veto the proposed legislation.
The new proposal, notes AFP, would make the conditions in the previous bill non-binding, which leaves Obama with more flexibility.
Talks between Iran and the six world powers, aimed at turning an interim agreement reached last year into a permanent one, have not made substantial progress. The two sides failed to clinch a definitive deal by a November deadline and agreed to extend the talks for another seven months.
On Sunday it was announced that the sides will meet again in February, after yet again failing to make progress in meetings over the weekend.