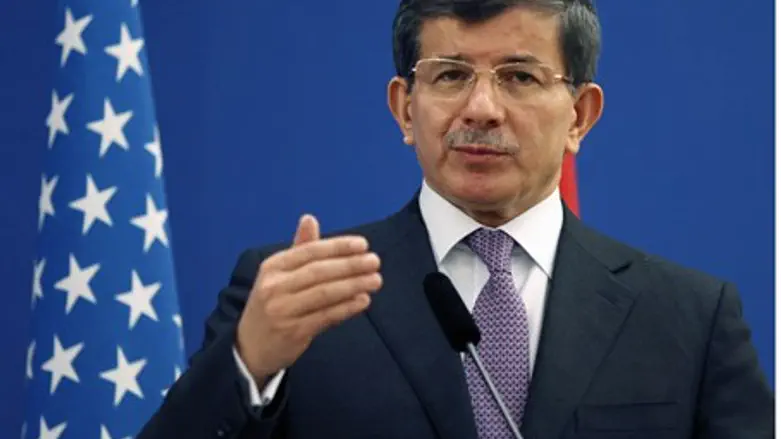 Ahmet Davutoglu
Reuters
Turkish Prime Minister Ahmet Davutoglu is not letting up with his verbal attacks against Israel.
A day after he said that Prime Minister Binyamin Netanyahu had committed crimes against humanity comparable to those behind the Paris attacks, Davutgolu on Friday accused his Israeli counterpart of terrorism and further said that Israeli "provocations" such as the bombardment of Gaza were contributing to radicalization in the Muslim world.
"He himself killed, his army killed children in the playground. They killed our citizens and an American citizen in international waters. This is terrorism. Nobody can argue about Israeli aggression in Jerusalem in the al-Aqsa mosque," Davutoglu told Reuters in an interview.
"These provocations create frustration in the Muslim world and are becoming one of the reasons why these radical trends are emerging," he charged.
Davutoglu's verbal assault on Israel came after Turkish President Recep Tayyip Erdogan blasted Netanyahu for "daring" to attend the weekend's anti-terror solidarity march in Paris after the attacks.
Netanyahu shot back Wednesday that Erdogan's "shameful remarks must be repudiated by the international community."
Turkey's relations with Israel - once a key partnership for the Jewish state with a Muslim nation - have steadily deteriorated under Erdogan's rule.
The Turkish president is known for his angry, and oftentimes anti-Semitic outbursts at the Jewish state, declaring in July that Israel had "surpassed Hitler in barbarism."
He has also been accused of inciting against Jews in general; anti-Semitism in Turkey has risen considerably in the years since his Islamist AKP party took power, prompting many young Turkish Jews to leave the country - often to Israel.
Erdogan stepped his verbal attacks on Israel after the 2010 Mavi Marmara incident, when the Marmara ship, which claimed to be providing "humanitarian aid for the people of Gaza," defied orders to turn around and dock at the Ashdod port. After it ignored repeated warnings to change course, the IDF boarded the vessel - only to be attacked by Islamist extremists on board.
The soldiers had no choice but to open fire, resulting in the deaths of nine of the IHH members on board. After an investigation, Israeli authorities discovered the vessel to be carrying no humanitarian aid - in fact, no aid supplies at all - whatsoever. 
(Arutz Sheva's North American desk is keeping you updated until the start of Shabbat in New York. The time posted automatically on all Arutz Sheva articles, however, is Israeli time.)