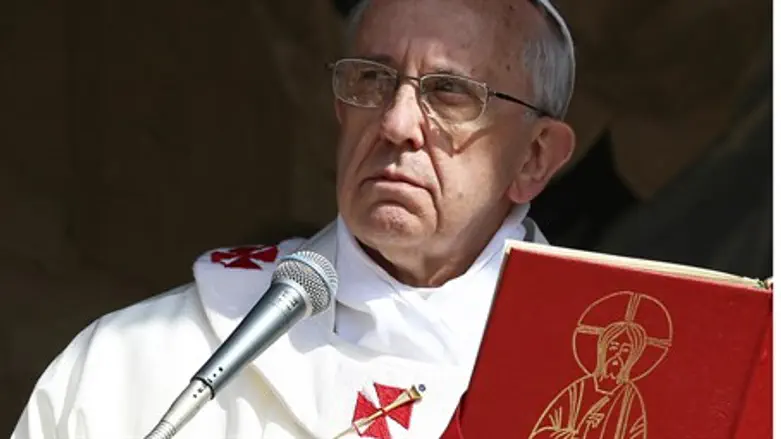 Pope Francis
Reuters
Did Pope Francis justify the brutal Islamist attack on satirical magazine Charlie Hebdo in Paris last Wednesday, in which 12 people were murdered in cold blood?
The Vatican has snapped into overdrive trying to play down controversial comments made by the pope this Thursday, which are seen as blurring the lines of free speech.
On a flight to the Philippines on Thursday, the pope spoke about the attack last week at the magazine which has published cartoons of Mohammed, the founder of Islam - along with cartoons poking fun at the pope and the Catholic church.
Saying there are limits to free speech, the pope referred to Alberto Gasbarri who organizes his trips, reports Associated Press.
"If my good friend Dr. Gasbarri says a curse word against my mother, he can expect a punch," the pope said half-jokingly, proceeding to throw a mock punch at him. "It's normal. You cannot provoke. You cannot insult the faith of others. You cannot make fun of the faith of others."
He called the attack an "aberration," but at the same time said a response - evidently a violent response as per his example - was expected.
"There are so many people who speak badly about religions or other religions, who make fun of them, who make a game out of the religions of others," he said.
"They are provocateurs. And what happens to them is what would happen to Dr. Gasbarri if he says a curse word against my mother. There is a limit," opined the pope.
As backlash started to pour in to the comments, Rev. Thomas Rosica, an associate of the Vatican press office, issued a statement on Friday claiming the pope was not justifying the attack.
"Pope Francis has not advocated violence with his words on the flight," claimed Rosica. He said the statement was "spoken colloquially and in a friendly, intimate manner among colleagues and friends on the journey."
The pope is himself targeted for assassination by the Islamic State (ISIS) terrorist group, but last November he said he was open to "dialogue" with the brutal organization responsible for countless atrocities in Syria and Iraq.
Evidently his targeting is not for "provocation" but simply for his religion - ISIS has made clear that it is waging a war on Christianity, noting that Rome is a key target for conquest as the home of the Vatican and a core symbol of Christianity.